Carmustine is a chemotherapy agent used to treat multiple myeloma, Hodgkin's disease, Non-Hodgkin's lymphomas, and brain tumors by interfering with cell growth. It is administered intravenously or placed inside the cavity produced by a brain tumor extraction. The side effects of carmustine are harsh and wide-spread.
This chemotherapy drug acts as an alkylating agent, which anchors an alkyl chemical group to the DNA of cells to prevent cell growth. Alkylating agents attack all cells, but cancer cells, which multiply faster and are less capable of correcting DNA damage, are more susceptible to the carmustine than healthy cells. The goal for oncologists and patients is that the healthy cells will ultimately prevail in the chemotherapy war and all the cancer cells will perish. Carmustine is used to treat multiple myeloma, Hodgkin's disease, Non-Hodgkin's lymphomas, and brain tumors.
The side effects differ for each form of carmustine. When administered intravenously, fairly intense feelings of nausea with vomiting will usually occur a few hours after the agent is administered. To prevent or reduce this side effect, antiemetics are usually given in advance of treatment.
Intravenous carmustine may also cause dose-related scaring of the lungs, and higher doses cause worse scarring. These pulmonary problems may appear months or years after treatment. Signs of liver damage, such as elevated transaminase, alkaline phosphatase, and bilirubin, may occur as well. Kidney damage, characterized by an increase in urea, creatinine, and nitrogen-containing substances in the blood, occurs most often in patients receiving high doses and only occasionally in patients receiving low doses.
This drug can also cause severe blood toxicity by suppressing red and white blood cell and platelet production when administered intravenously. The hematologic impacts are usually observed several weeks after the first treatment. Weekly blood tests are typically used to monitor the hematologic effects of this chemotherapeutic agent, and the dose of the drug is adjusted if hematologic suppression is too great. Patients are advised to use extreme vigilance to minimize contracting general infections in this weakened state.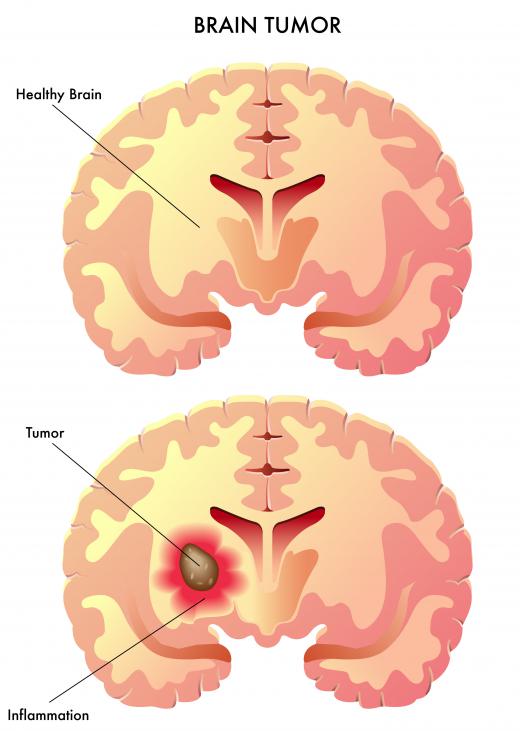 When placed inside a tumor cavity the drug is more concentrated and localized, so the side effects of this form of the drug are slightly less than with the intravenous, more systemic form of carmustine. Side effects include seizures, brain edema, and speech and movement problems. This form of treatment also has a risk of impaired wound healing and cerebrospinal fluid leakage. There is also a risk of brain infection. Roughly 1% to 3% of patients receiving this form of treatment show the same side effects as when the drug is administered intravenously.
AS FEATURED ON:
AS FEATURED ON:

By: tawesit

Carmustine is a chemotherapy drug used to treat multiple myeloma patients.

By: ShpilbergStudios

When administered intravenously, carmustine can cause intense nausea and vomiting.

By: rob3000

Carmustine may be used to treat brain tumors.

By: Tryfonov

Carmustine interferes with tumor cell growth in the brain and elsewhere in the body.