Cabbage gratin is a hearty casserole that usually contains cheese or another dairy product. The term gratin refers to the crunchy topping on the casserole, usually made of bread crumbs, though some cooks use nuts or a hard, shredded cheese instead. There are several varieties of cabbages available and different recipes call for different types. Generally, a cabbage gratin is prepared on the stove and then baked in an oven.
A cook can be very creative when preparing a cabbage gratin. There are many recipes for this dish that use cabbage, and each one is different. Some call for cheddar or Swiss cheese, while others call for creamy cheeses, such as Saint-Marcellin, which is a triple-cream cheese similar to brie. Another option is to not use cheese at all, and a few recipes use heavy cream or milk instead.
The topping is what makes a cabbage gratin a gratin. Breadcrumbs are a common choice for this coating. Some people may use large bread pieces, such as croutons. It is also possible to mix the breadcrumbs with finely grated Parmesan or another hard cheese, or to combine the breadcrumbs with crushed nuts, such as walnuts. Another option is to toss coarse cornmeal with the ingredients in place of the breadcrumbs. Using cornmeal in this way typically gives the dish a crunchy texture throughout the gratin.
Varieties of cabbage used in a gratin can range from red to simple green cabbages. Some recipes call for savoy cabbage, which is more delicate than the other types and has a sweeter taste. Red cabbage also has a sweet flavor and contains more antioxidants due to its color pigmentation. Green cabbage is typically the least expensive of the varieties.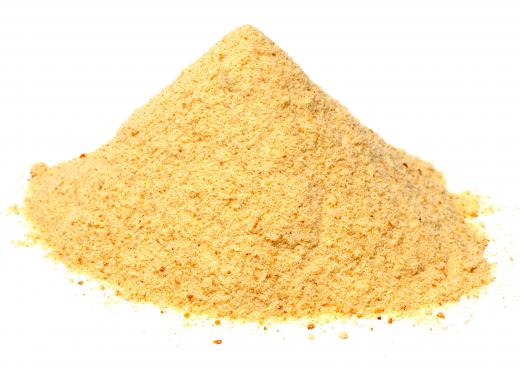 In most cases, a cabbage gratin is prepared by heating a liquid — either a vegetable or chicken stock, milk, or cream — on the stove. Ingredients like chopped garlic, diced onion, and seasonings can be added to simmering liquid, and then the cheese and chopped cabbage are stirred in. Depending on the flavor she wishes to achieve, a cook can add seasonings ranging from paprika to only basic salt and pepper. Another option is to stir in fresh or dried herbs, or other flavorings, to create a unique dish. For example, an ingredient like dry mustard powder would add a sharp, tangy flavor to the gratin.
Once the ingredients are combined in this way, the cook usually pours the mixture into a buttered, shallow baking dish and sprinkles the topping over it. Traditionally, gratin dishes are oval in shape, but any shape of dish can be used, as long as it is large enough and not too deep. If she wishes, the cook can portion the gratin into individual serving dishes, and then bake.
AS FEATURED ON:
AS FEATURED ON:

By: roobcio

Paprika, which can be used to season cabbage gratin.

By: marilyn barbone

Croutons may be used to top cabbage gratin.

By: Vidady

Breadcrumbs are frequently used to make the crispy crust for cabbage gratin.