What is Business Networking?
Business networking is the process of establishing and growing rapport between businesses that could lead to benefits for all parties concerned. While business networking is often focused on generating additional revenue through acquiring new clients, there are several other advantages that can be derived from this process of making and cultivating contacts. Here are some examples of how business networking takes place and how engaging in this type of activity can be extremely helpful.
Because business networking is all about creating rapport with others in the business world, the process involves direct interaction between people. This is in contrast to advertising campaigns or public relations efforts where the idea is to attract attention that encourages a positive image among consumers and tempts them to do business with the advertiser. To truly be engaged in the task of networking, the process must begin with two people sharing ideas and finding some sort of common ground.
In many communities, one of the most effective ways to implement business networking is to attend events that encourage businesspeople to mingle and dialogue in a comfortable and casual atmosphere. Mixers sponsored by a local chamber of commerce provide the ideal environment for this type of networking activity. By engaging in casual conversation, different entrepreneurs and representatives of various businesses often uncover ways they can create a mutually advantageous relationship, either by doing business with one another or establishing a commitment to refer potential clients to one another.
Attending conventions and conferences are also excellent ways to engage in business networking. Business relationships established in venues of this type broaden the scope of the network to include national and possibly international ties along side the local network. The goals remain the same: to discuss how each party can assist the other in reaching key goals to the mutual benefit of both parties.
Industry associations are also an excellent way to engage in business networking. Since many industries have niche markets that require specialized attention, such as teleconferencing as a niche market in the wider industry of telecommunications, there is the chance for members of the association to establish a working relationship that allows them to help each other grow. For example, a telecommunications firm that is focused on selling international long distance services might find that tag-teaming with a teleconferencing bureau helps to strengthen the demand for both their services. As a result, the business networking effort pays off in more sales and a way to offer something extra that competitors may not offer.
Today, business networking can also take place in online environments. Networking forums, websites, and even chat rooms make it possible for established businesses and entrepreneurs to communicate and possibly discover ways to help each other grow. Because these resources are available around the clock, there is never the limitation of carving out time to attend a physical meeting in order to engage in the business networking.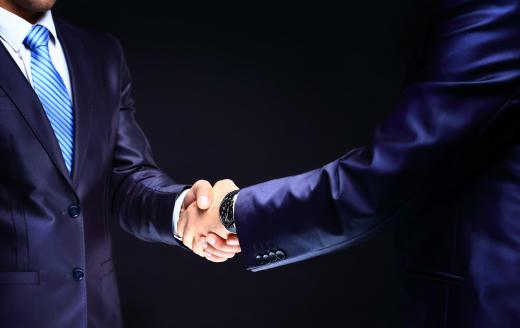 Some business networking efforts focus on making contacts that are a little broader in nature. For example, salespeople who reside in a given metropolitan area may choose to create a business network that is especially for salespeople. This approach to networking makes it possible to share leads with one another, share tips and ideas on sales techniques, and even help each other find work if a member of the network is suddenly without employment.
Engaging in business networking can yield a number of other benefits in addition to making contacts. Professionals can share networking tips with one another, aid in the process of job networking, teach newcomers how to go about building contacts and in general helping everyone in the network to enhance their networking skills. For many professionals, time spent on business networking efforts yields benefits that make the effort well worth it.
AS FEATURED ON:
AS FEATURED ON:

By: Anatoly Tiplyashin

Attending business conferences and conventions is a great way to engage in business networking.

By: Monkey Business

Coworkers may gather to network ideas together.

By: DragonImages

Business networking involves direct interaction between people.

By: Andres Rodriguez

Business networking often involves the exchange of business cards.

By: Tanusha

Business networking is about creating rapport and building business relationships.

By: Odua Images

An effective way to implement business networking may be to attend events that allow businesspeople to mingle in a casual environment.

By: Daniel MR

Business networking might occur at retreats that include team-building games.

By: winston

Coffee shops may host events for professionals to network.

By: highwaystarz

Many entrepreneurs find that business networking with peers keeps them up to date on market trends and opportunities.

By: shotsstudio

Business networking might be done in a more casual setting like a bar or restaurant.