Boiled frosting is a type of dessert topping whose base is primarily made by boiling sugar with other ingredients to form a thick, sticky substance. The boiled ingredients are then gradually beaten together with egg whites, which incorporates air into the mixture to result in a fluffy and light frosting. The frosting is often used to top cakes, cupcakes, and other desserts, but is thought to be too sticky and light to be used for decorative piping or other intricate designs.
The base of boiled frosting tends to consist mainly of granulated sugar, with small amounts of salt and cream of tartar. The salt is thought to enhance the other flavors in the frosting and draw more moisture out of the other ingredients in order to make the finished product satiny and easy to spread. Cream of tartar, scientifically known as potassium hydrogen tartrate, is a type of acidic salt that is thought to stabilize and increase the volume of the beaten egg whites in the frosting. It is also considered by many to add a smooth texture to the frosting by preventing the sugar from crystallizing and becoming hard.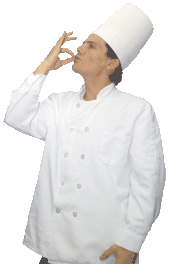 Boiled frosting is generally made by combining approximately 1.5 cups (192 grams) of sugar, a pinch of salt, and ½ teaspoon of cream of tarter with cold water. Recipes often vary on the amount of water called for, but may range from around .25 cup to .50 cup (32 to 64 grams). The mixture is then cooked on a stovetop over medium heat until it becomes soft and thick, and reaches approximately 240 degrees Fahrenheit (115.56 degrees Celsius). Egg whites are typically beaten until they become soft and fluffy peaks, and then beaten as the boiled sugar mixture is slowly poured into the egg whites. The entire mixture is beaten until it is a smooth, shiny consistency.
Since boiled frosting tends to become sticky, it is usually recommended to use it as soon as possible. To prevent crumbs from mixing in with the frosting, recipes may advise applying large amounts of the frosting in the middle of the dessert and then spreading it out from the center. This type of frosting is often used to make a swirl design on desserts by applying the frosting in a thick, even layer and then using the back of a spoon to make various circular motions to form swirls. Although it is advised to use boiled frosting immediately after making it for the best results, it may also be tightly covered and stored in the refrigerator for up to one day before using. If it is not tightly covered or is stored longer than one day, the frosting may begin to set and not be spreadable.
AS FEATURED ON:
AS FEATURED ON:

Chef