What is Beer Cheese Soup?
Beer cheese soup is a creamy soup that is ideal for serving with crusty bread for a hot meal or as a quick snack alongside fresh popcorn. While there are many different recipes for beer cheese soup, the most popular versions originate from the Great Lakes and the Heartland of the Midwestern United States. While the soup requires several ingredients, the preparation time is relatively short and is sure to please just about everyone.
At the heart of just about every beer cheese soup recipe is the beer. For a basic recipe, the equivalent of two cans of beer is usually sufficient. The beer is combined with some chicken broth to make the basic liquid for the recipe. Cheddar cheese that is shredded coarsely, along with fresh cream, will help to thicken the liquid and provide the basic texture for the soup.
From this point, there is a wide range of options when it comes to ingredients for the beer cheese soup. Many recipes call for frying multiple slices of bacon, then either crumbling the bacon into the liquid or chopping the slices into longer sections. Vegetables like celery, onion, and carrots are diced or chopped and added to the mixture. For a little extra color, adding in chopped bell peppers in shades of green, yellow, and red will give the soup a more festive appearance. A pinch of cayenne pepper can be added as well if the cook wishes to add a little more heat to the soup.
For many, the combination of broth, cream, and cheeses produces a soup that is thick enough for their tastes. However, if you prefer a thicker consistency, it is possible to add a small amount of flour or cornstarch as the soup simmers. By adding salt and pepper to taste, the beer cheese soup will be ready to serve.
While technically any type of cheese can be used, many people prefer a sharp cheddar produced in Wisconsin. However, it is possible to prepare the recipe using a mixture of cheeses such as mozzarella, cheddar and Swiss. If cream is not available, it is also possible to utilize half-and-half in the recipe.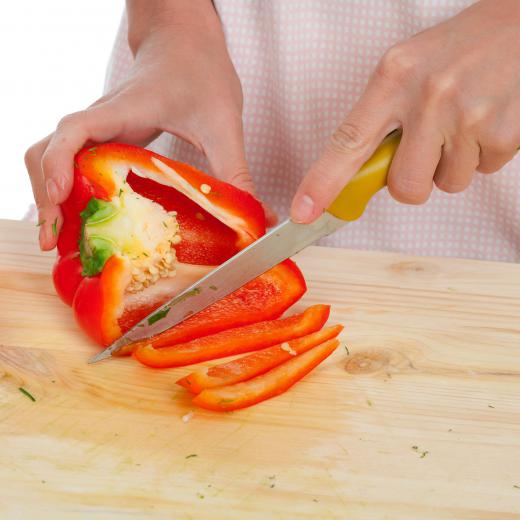 Serving beer cheese soup can also be a lot of fun. Creating bread bowls from crusty oversized rolls works very well. The soup can also be served in regular soup bowls along with chunks of bread. When preparing the bread, make sure the loaves are torn into large chunks rather than cut into uniform slices. This will make the bread chunks ideal for dipping into the soup.


By: vadim yerofeyev

Cornstarch, which can be used to thicken beer cheese soup.

By: Bert Folsom

Cheddar cheese is traditionally used to make beer cheese soup.

By: Marius Graf

Any type of beer can be used in beer cheese soup, but a malty ale is often recommended.

By: sparkia

Many beer cheese soup recipes include bacon.

By: Fanfo

Red bell pepper makes beer cheese soup more festive.

By: coffeemill

Popcorn makes a good accompaniment to beer cheese soup.