Basil can be the stand-out seasoning in a variety of shrimp dishes. Basil shrimp may refer to a simple coating of chopped basil, lemon juice, mustard and garlic to give skewered shrimp a distinctively tangy twist. It also could refer to a deeply nuanced shrimp dish featuring a homemade or store-bought basil pesto over shrimp and noodles.
It does not take very long to cook basil shrimp in any context. Even the larger prawns usually can cook within five or six minutes, so basil shrimp is often a quick recipe to execute. Starting an hour early to marinate the shrimp will impart more flavor, though, than simply combining ingredients over heat.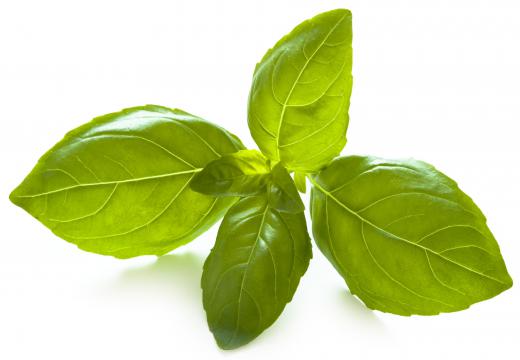 The marinade usually starts with both melted butter and olive oil in a bowl, combined with lemon juice, minced garlic, dijon mustard, minced basil, salt and pepper. Shrimp should be coated with oil in a bowl, which is covered and left for at least an hour in the refrigerator. Then, the fully marinaded shrimp can then be grilled over high heat until charred. Many use skewers to make it easy to turn the shrimp when ready. It is important to first grease the grill or the skins of the peeled shrimp could stick and tear.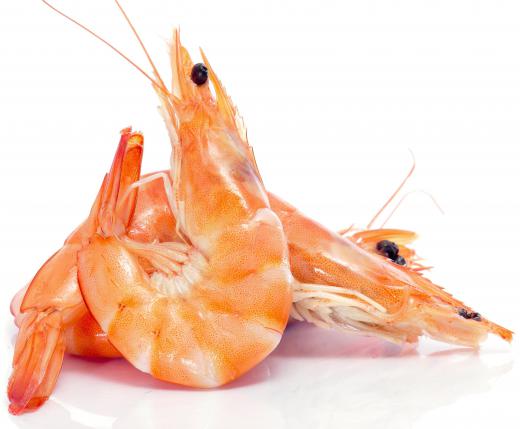 For more robust flavors, many make a basil shrimp pesto to toss with noodles. This takes a little expertise, but not too much. First, basil leaves are blanched in cold saltwater. After straining, the leaves are chopped finely by hand or in a food processor with pine nuts, garlic cloves, Parmesan cheese and olive oil. Though recipes vary, a popular blend calls for 4 cups (1 liter) of basil to 0.5 cup (113.4 grams) each of pine nuts, olive oil and Parmesan, as well as two cloves of garlic.
After the basil pesto is finely blended, chefs often toss it with pasta and grilled or boiled shrimp. A variation is a dish with heat that calls for white wine, tomatoes and red pepper flakes. Instead of blending the ingredients in a food processor, this dish entails cooking the shrimp, setting them aside, and then adding garlic and pepper flakes to the oil, making it spicy and aromatic. Then, white wine, basil, tomatoes and some salt and pepper go into the hot oily pan to cook until the ingredients are blended. This concoction can then be poured over the protein for an Italian-tinged basil shrimp dish.
AS FEATURED ON:
AS FEATURED ON:

By: leeavison

Basil.

By: nito

Shrimp.

By: Bert Folsom

Grated Parmesan cheese is often used in basil shrimp dishes.

By: Bert Folsom

Basil shrimp marinade contains minced garlic.