Barolo is a type of sweet or dry Italian wine. Known as the wine of the kings, it is produced in the Cuneo province. Made from the red Italian grape called Nebbiolo, it is known for its scent of tar and roses. The alcohol content of the wine is thirteen percent.
This wine of kings is normally a robust brick red color. Its taste has been compared with violets, ripe berries, and truffles. Hints of black cherry, leather, and cinnamon may also be detected in the flavor.
During the aging process, Barolo changes significantly. Its hue takes on an orange tint as it gets older; its taste becomes more mellow as well. Once Barolo wines have been kept in barrels for five years, they may be labeled as Riserva wine.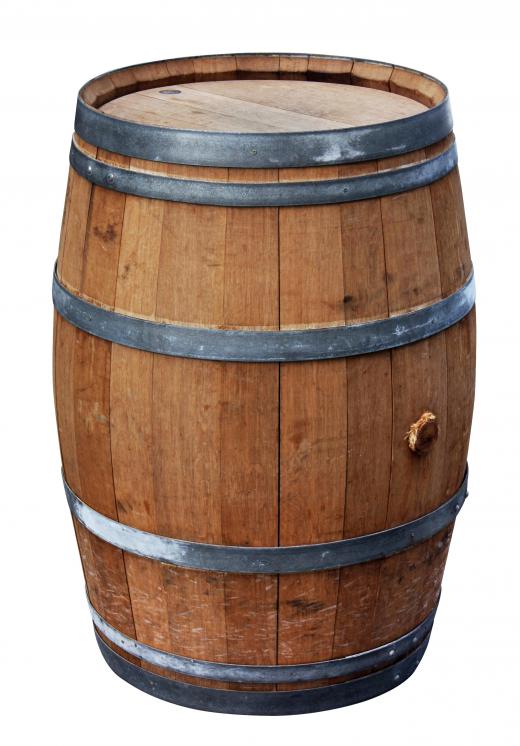 Modern Barolo fermentation takes place over a period of ten days, giving the wine a fruity, dry taste. Traditional wine making calls for three weeks of fermentation or more, which results in an astringent, tannic wine. The argument between the two very different flavors and methods between modernists and traditionalists are known as the Barolo wars.
Moderately expensive, intense Barolo is considered one of the world's best wines. Wine connoisseurs wishing to purchase vintage bottles have a wide range of years to choose from, including 1985, 1988, 1989, 1990, 1993, and most of the late 1990s. To properly serve the wine during a meal, open the bottle at least an hour prior to the meal for optimal aeration.
A strong wine, it should not be paired with light steamed vegetables to avoid overwhelming the meal. Traditional food pairings with the beverage include thick pastas, meat dishes, and bold risotto. The tannic composition of the wine does make it interact with proteins, making it softer when coupled with high fat and protein dishes. When the wine is consumed with vegetarian dishes, it can create a dry, bitter effect on the tongue.
Along with four other wines, Barolo was one of the first products classified as a DOCG, or Denominazione di Origine Controllata e Garantita, wine. This classification was created in 1980, when Italian authorities sought to maintain a high standard for certain wines. The other wines originally included were Vino Nobile di Montepulciano, Brunelle di Montalcino, Chianti, and Barbaresco.
Vineyards used for Barolo wine are made up of calcareous clay soil. The hills of these vineyards, located in the Italian town of Alba, are expected to have slopes that ensure optimal grape growth. Though many varieties exist, the top producers include Luciano Sadrone, Anselma, Bartolo Mascarello, Azelia, Pio Cesare, and Paolo Scavino.
AS FEATURED ON:
AS FEATURED ON:

By: Brad Pict

A wine barrel.

By: Felix Mizioznikov

Barolo normally has a brick red color.

By: ncoyot

Moderately expensive, intense Barolo is considered one of the world's best wines.

By: unclepodger

When serving Barolo with a meal, the bottle should be opened an hour before the meal for proper aeration.

By: Irina Redko

Barolo wines are made using Italy's red Nebbiolo grape.