Bakpia Pathok are Indonesian pastries filled with mung beans. The round-shaped pastries are sometimes filled with other foods as well, such as chocolate or fruit. They are served as a snack food.
The name Bakpia Pathok comes from the region these desserts are from. Pathok is a small area located in the Indonesian city of Yogyakarta. Though the pastries originated in Pathok, they can be found throughout the rest of Indonesia as well. The pastries are typically sold packaged in small packages, and are available in a variety of different food brands. Many people who regularly purchase Bakpia Pathok usually have a trusted, favorite brand they prefer to buy when available.
During the holiday season, Bakpia Pathok sellers offer a wide variety of fillings for sale as gifts. Cheese and pineapple are two popular filings that people choose to give as gifts. Durian fruit, a spiky, Southeast Asian fruit known for its strong smell, is another frequently used filling. In all seasons, tourists who visit Yogyakarta often take these pastries home as souvenirs or gifts for friends and loved ones from their journey.
In Indonesia, these sweets are readily available. To purchase Bakpia Pathok elsewhere, one must usually locate the pastries in an Indonesian specialty food shop. A person could also cook his or her own Bakpia Pathok.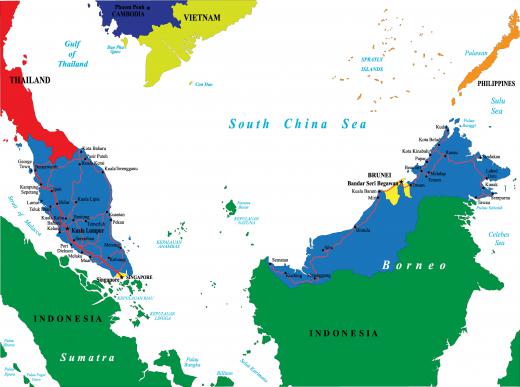 To make Bakpia Pathok, wheat flour, vegetable oil, and water are used for the main pastry shell. This is seasoned with a small amount of salt, and kneaded into a dough. Another, separate, sheet of dough is prepared from similar ingredients, with an egg used in place of the water. This dough is kneaded as well.
Both dough sheets are folded together and cut into smaller pieces, which will each be used to create an individual pastry. The pastries are then filled with whatever the cook chooses to fill them with and rounded off into smooth, rounded pastries that resemble rolls or buns. For a traditional bean filling, the beans are heated and prepared until smooth, then used to fill each individual pastry. To create sweet pastries rather than savory ones, sugar and vanilla are often added to the filling.
Once complete, the treats should be golden brown in the center. Edges should be much paler in comparison. Each dessert pastry should be flaky and warm, and when opened, the inner filling should be soft and firmly nestled in the pastry rather than leaking out of it.
AS FEATURED ON:
AS FEATURED ON:

By: Natika

Chocolate may be used to fill a Bakpia Pathok.

By: bogdanserban

Though the pastries originated in Pathok, they can be found throughout the rest of Indonesia as well.

Durian is often used as filling for bakpia pathok.