What is Avascular Necrosis?
Avascular necrosis is a medical condition which is caused by a restriction of blood supply to the bones of the body. As a bone is deprived of blood, it starts to weaken and crack, and it will ultimately collapse, potentially causing serious problems. The condition strikes people in all ages and physical conditions, and it requires prompt medical treatment for the best chance at recovery. In some cases, it can become a life long problem which will require extensive monitoring to ensure that the patient's bones stay in good health.
Three leading causes for avascular necrosis are trauma, heavy alcohol consumption, and the use of corticosteroids. The condition can also be caused by sudden decompression, radiation damage, sickle cell anemia, and hypertension, among other things. Sometimes there is no clear explanation for avascular necrosis, in which case it may be known as idiopathic necrosis. Some doctors call the condition osteonecrosis, aseptic necrosis, or ischemic bone necrosis as well.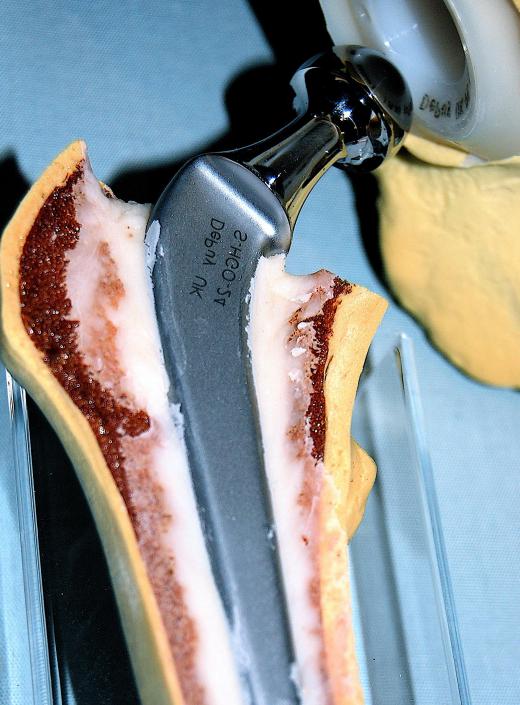 Joints are common victims of avascular necrosis, especially the hip joints. The condition can also strike the shoulders, knees, and jaw. Typically, the condition is diagnosed after a patient complains of persistent joint pain; if you experience recurrent or persistent pain, it is very important to see a doctor to get to the root cause. The longer avascular necrosis is left untreated, the more damage to the bone the condition can cause; if left for too long, it can result in permanent disability.
To diagnose avascular necrosis, doctors use x-rays, imaging studies, and bone scans to investigate the area in question. Patients can be treated in a variety of ways; there are some medications which can reduce pain and promote bone regrowth, and patients are also encouraged to rest and to use special exercises to gently support the affected area. Surgical treatments include grafts of healthy bone and joint replacement. Doctors also generally like to find and treat the cause of the problem to ensure that it does not recur.
Blood supply to the bones is very important, as is prompt treatment of any interruption of this blood supply. The prognosis for avascular necrosis varies immensely, depending on the patient's physical condition, where the necrosis strikes, and what stage the condition was at when it was diagnosed. If left for too long, avascular necrosis can cause total bone collapse, which would require extensive surgical treatment. Patients who are fortunate enough to identify problems early may be able to treat the condition with rest, medication, and specialized exercise treatments to promote bone growth and blood flow.
AS FEATURED ON:
AS FEATURED ON:

By: JASON WINTER

Advanced avascular necrosis may require joint replacement surgery.

By: Monkey Business

In some cases, avascular necrosis is caused by high blood pressure.

By: WavebreakMediaMicro

Avascular necrosis may be diagnosed via X-rays.

By: vbaleha

Shoulders may be affected by avascular necrosis.

By: ambrozinio

Heavy alcohol consumption is one of the leading causes of avascular necrosis.