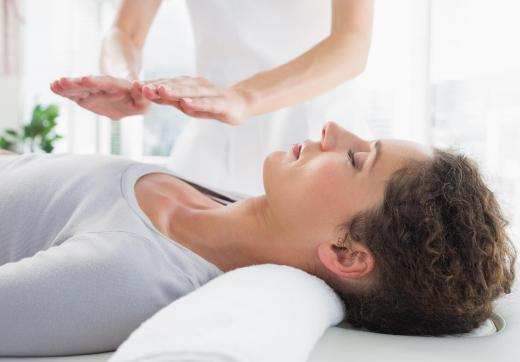 Attunement is a spiritual technique used to bring about emotional balance and a feeling of well-being. It is also considered a healing practice that uses vibrational energy transmitted through touch. In Reiki, a New Age practice that uses touch to heal, attunement is the name of the process to become a Reiki master or healer, and it also means the methods the Reiki master uses to heal.
Reiki attunements are thought to release emotional blocks in the body caused by stagnant energy or qi, the Traditional Chinese Medicine (TCM) term for spiritual energy or life force. The Reiki practitioner will hold his hands over a patient's body and transmit energy to clear pathways for qi to flow again. Those who go to a Reiki healer for attunement are advised to prepare for the session by limiting or cutting out meat, sugar and alcohol at least three days before. The reported benefits of an attunement are clearer thinking and more emotional control over destructive habits and feelings.
When one goes through the Reiki attunement process in order to become a Reiki healer, there are three levels, called degrees of attunement. Energy is supposed to flow from the novice Reiki practitioner's hands when the first level, under the guidance of a Reiki master, is achieved. At the completion of the second degree, the student will have learned symbols which can be made with the hands over a patient's body. When the student has finished the third degree of attunement, he is considered a Reiki master and able to teach others the process.
There are some people who will testify to the benefits they have personally experienced from such sessions, but there are also plenty of skeptics. Some of the non-believers point to the claims made by some Reiki healers that their work can cure disease. Not every practitioner espouses that belief, however, and many healers promote attunements for simpler ailments like mild anxiety or fatigue. Others question the cost of the attunement initiation process, but there are some Reiki healers who pass on their knowledge for free.
There is presently no scientific evidence that attunements can bring about actual physiological healing. They are thought to provide a placebo effect, where the patient believes the practice is doing good. Such a feeling may work to reduce tension and emotional anxiety, much like the recorded benefits of meditation.


By: WavebreakMediaMicro

One must go through Reiki attunements in order to become a Reiki healer.

By: michalzak

Some attunement practices involve gaining a deeper connection with nature.