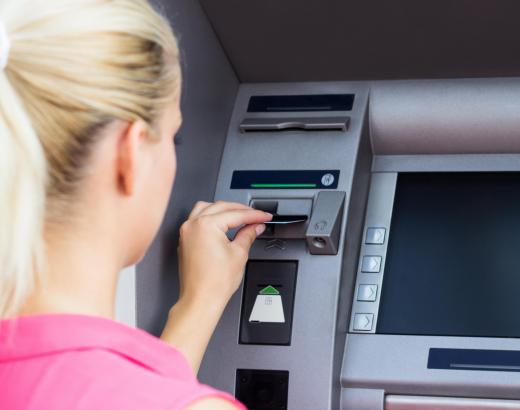 Financial fraud of all types is a huge problem throughout the world. With the advent of automated teller machines, or ATMs, came another opportunity for would-be thieves to steal money, account information, and identities. The term "ATM fraud" can refer to an illegal transaction that is committed by using an ATM, including fraudulent deposits or skimming card information.
Most financial institutions have made depositing checks, or cash, as easy as withdrawing funds at an ATM. Most financial institutions also operate on the assumption that the person making the deposit is being honest and is actually depositing a valid check or cash. As a result, most ATMs credit the account holder at least a portion of the deposit immediately upon completion of the transaction. This can make ATM fraud very easy for someone who deposits an empty envelope and then withdraws money from the account. Of course, the amount that can be withdrawn using this type of ATM fraud is limited, and tracing the transaction is fairly easy, making fraudulent deposits less of a concern than other types of ATM fraud.
Of much larger concern to financial institutions and cardholders are the various forms of ATM fraud committed by stealing or skimming a cardholder's information when he or she uses the ATM. Stealing a cardholder's information may be accomplished in a number of ways. A criminal may implant a device on the ATM that causes the card to appear to be stuck in the machine only to be retrieved minutes later by the thief when the cardholder gets frustrated and leaves the area. The thief may then simply begin another transaction with the card and withdraw money from the account.
Criminals have also been known to use cameras positioned nearby an ATM machine that read the card information and record the pin number when entered by the cardholder. A clone, or duplicate, of the card is then made and used by the thief to make purchases or withdraw funds. This type of ATM fraud, however, has largely been replaced by more high tech gadgets known as card "skimmers."
A card skimmer is a device placed on the ATM that is unrecognizable by most users of the machine. The device actually reads and records the card information, as well as the pin number entered by the cardholder, in some cases. The thief simply returns to the ATM at a later time and removes the device and then uses the information gathered to make clone cards.


By: sanjagrujic

Fraudulent deposits or skimming card information are both examples of ATM fraud.

By: WavebreakmediaMicro

It pays to be cautious when entering a PIN to withdraw cash from an ATM.

By: rodjulian

ATM fraud may occur if a person's bank card is stolen.

By: Susan Stevenson

Law enforcement should be notified immediately if someone believes their ATM card is being fraudulently used.

By: Maksim Kostenko

ATM fraud might occur if a person's bank card is used to make online purchases.