A x-ray worker is a member of the health field who specializes in radiographs, images which depict the inside of the body with the use of x-rays and specialized film. There are a number of different kinds of x-ray workers, including x-ray technicians and x-ray technologists, along with related careers, like radiology. X-ray workers tend to work in hospital environments, although clinics with x-ray and other imaging equipment may also hire an x-ray worker, or a certified nurse who has taken a course which allows him or her to perform x-rays in addition to other nursing tasks.
Training to become an x-ray worker can take between one and four years, with two year programs being the most common. The level of training required depends on the kind of work the x-ray worker wants to do, and whether or not the worker wants to specialize in a particular aspect of this branch of the medical imaging field. For example, some x-ray workers are especially skilled at mammography, while others perform computed tomography (CT) scans, or work with contrast materials like barium which are introduced to the body of a patient for specific imaging studies.
The more certifications an x-ray worker obtains, the more employable he or she becomes. Workers who join a professional association and take board exams, as x-ray technologists do, are often highly prized, as they are skilled technicians who can perform a range of services. More certifications also entitle an x-ray worker to a higher payscale, with pay which varies, depending on the region of the world where the individual is employed.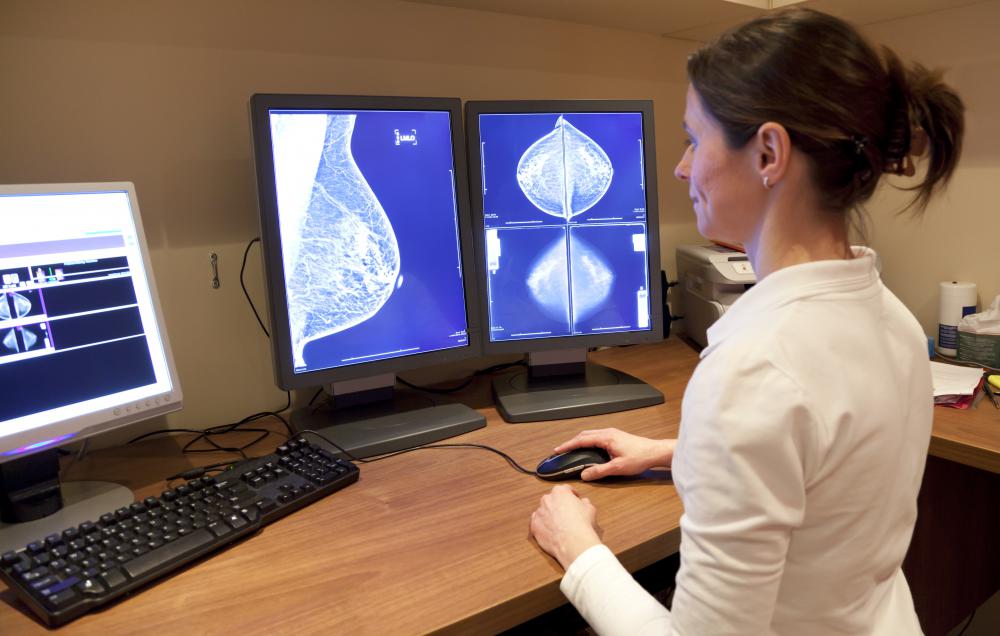 While x-ray workers often get very good at reading radiographs, colloquially known as "x-rays," they are not allowed to discuss results with patients. Instead, the x-ray must be read by a radiologist or another doctor, who can arrive at a diagnosis and discuss treatment options with a patient. In an emergency situation, an x-ray worker may draw the doctor's attention to a particular area of interest, to ensure that the patient is treated rapidly, but otherwise, the patient may have to wait several days to get results.
Taking radiographs requires some skill. The worker must be able to position to patient correctly, and handle the film and equipment appropriately. X-ray workers may also help to chart patient paperwork, prepare patients for x-rays, and assist with other imaging studies. There is also some risk of radiation exposure, which is usually monitored with a radiation badge clipped to the clothing. X-ray workers usually work behind shields and take other precautions to minimize their exposure to radiation.
By: Konstantin Shevtsov

An X-ray machine.

By: Leah-Anne Thompson

A radiologist reviewing an X-ray.

By: eAlisa

X-ray workers use equipment such as X-ray machines to take images of bones or other internal parts of a patient's body.

By: Picture Partners

Some X-ray workers are especially skilled at mammography.