What Is an Oyster Omelette?
An oyster omelette is a type of Asian omelette made with oysters and eggs. A staple of Asian street food, oyster omelettes are sold by vendors all over China and Taiwan. Made with either chicken or duck eggs, a starch is normally used as a binding element. Greens usually top this dish.
Though the main ingredients are relatively consistent, versions of this dish still vary greatly. Fresh or frozen oysters are always used, as are eggs. The starch, added to help bind the ingredients, is most often sweet potato starch. Tapioca starch or corn flour may be used instead, however. The greens topping an oyster omelette may be bean sprouts, spinach, mustard greens, or chrysanthemum greens.
There are a variety of optional ingredients that may also be added to an oyster omelette. Garlic and spring onions may also be included, as well as spices such as coriander, white pepper, and salt. Vegetable or peanut oil is usually used to cook some elements of the oyster omelette. Soy sauce and Chinese wine are also occasionally included.
An oyster omelette is often served with one or more sauces. Salty or sweet sauces are most common, with bean paste, oyster sauce, or sweet chili sauce being the usual choices. Spring onions or cilantro may also garnish the dish.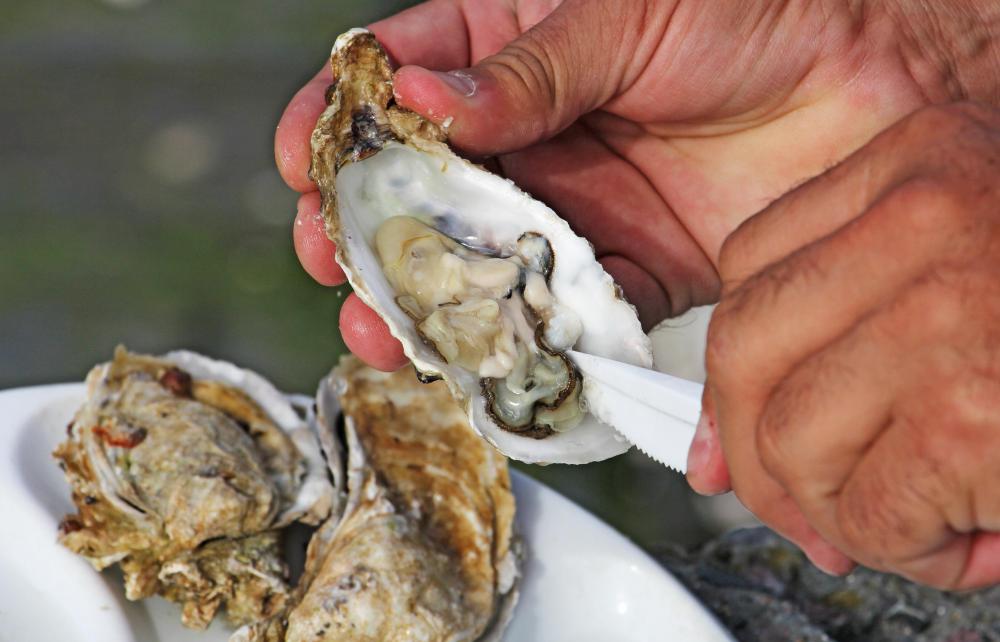 Home cooking and vendor stall cooking for oyster omelettes often have several differences. One of the main differences is in the egg preparation. When readying the eggs at home, they are usually scrambled or beaten before being placed in the hot pan or on the griddle. Vendors, on the other hand, often crack the eggs directly on to the griddle and break the yolks as the eggs cook.
To make an oyster omelette, the eggs are added to a griddle and allowed to nearly set. Afterward, the greens are placed over the top. The starch is sprinkled over the mixture before the omelette is covered and the eggs are allowed to set completely. Once set, the pancake-like omelette is folded, sometimes more than once, and served with sauces.
Alternately, a thin batter might be made out of rice flour, tapioca starch, and water. The batter is allowed to cook before the other ingredients are added. Although oysters may be placed on the griddle first, they are often the last ingredient added because they should be barely cooked.
Vendors almost always use fresh oysters, but, when home cooking, frozen oysters are often easier to use since they do not require shucking. When working with fresh oysters, it is extremely important they are still alive when shucked. Therefore, oysters must be carefully checked before shucking, with any open shells being discarded.
An egg, which is used to make oyster omelettes.

Fresh or frozen oysters should be used to make an oyster omelette.

Fresh oysters must be opened and separated from their shells before consumption.