What is an Open Face Sandwich?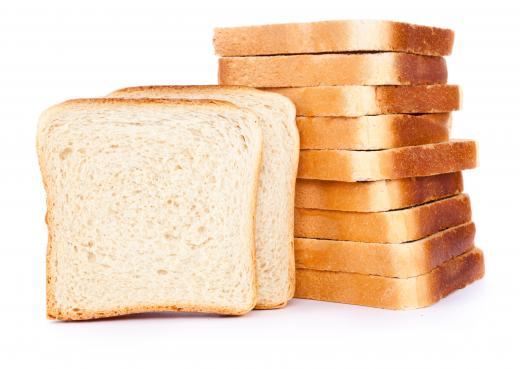 The traditional sandwich calls for meat, cheese, and other condiments to be arranged between two slices of bread. This works well for most cold cuts, sliced cheeses and heartier meats such as hamburgers or meatloaf. It does not work so well with softer cuts of meat, stuffing mixes or gravies. These sandwich items are often served over a single slice of bread, an arrangement known as an open face sandwich.
Open face sandwiches differ from traditional sandwiches in a number of ways. They are often eaten with a knife and fork, for instance, instead of being held in the consumer's hand. The contents generally include copious amounts of gravy, soft condiments, and roasted meats such as chicken and beef. A good open face sandwich is often built on the serving plate, which allows the preparer to cover the meat and bread with a significant amount of gravy or other sauces.
An open face sandwich does not have to be served hot, however. Some sandwich recipes call for cold ingredients to be stacked on top of each other and served without a top bread slice. A traditional cold cut sandwich may be served this way if the amount of condiments would make it difficult to close.
There are quite a few recipes available for open face sandwiches. Some people use leftover Thanksgiving day dressing, turkey slices, and gravy to create a heated sandwich the next day. Leftover pieces of pot roast may also be placed over sliced bread and served this way, with the addition of hot beef gravy. Thick slices of meatloaf also make popular toppings.
When looking at a restaurant's sandwich menu, it often helps to see how the finished sandwich is served. Some menus specifically designate which sandwiches are served on buns or sliced bread and which are served open faced. Generally speaking, if the sandwich ingredients include gravy or other sauces, it will most likely be served open face.


By: Igor Mojzes

Bread for sandwiches.

By: angorius

Gravy is generally included on an open face sandwich.