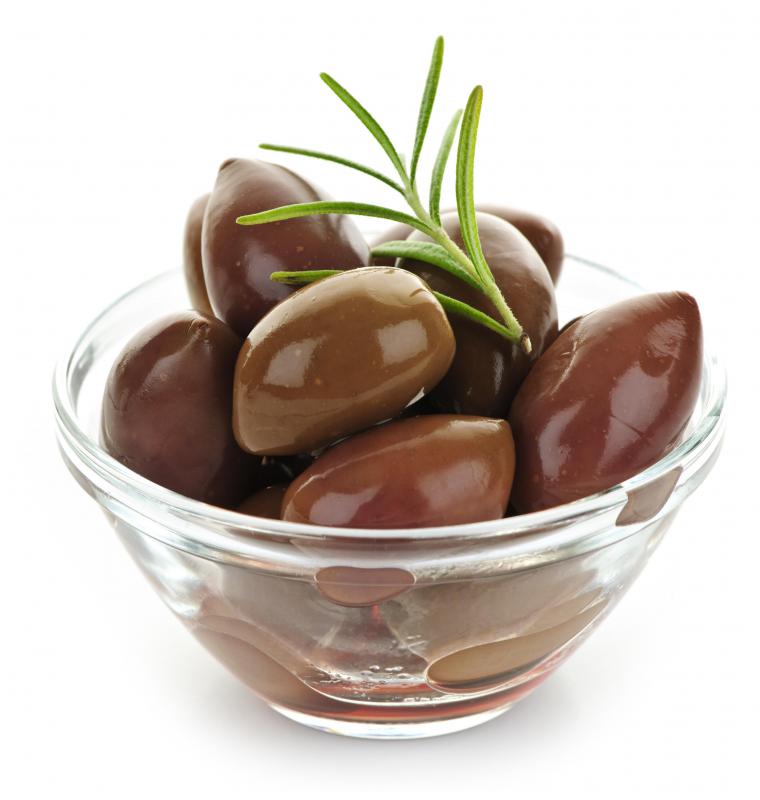 An olive tree is a tree in the olive family, Oleaceae. Many people think of Olea europaea or the "true olive" when they hear the words "olive tree," but in fact the family contains an estimated 900 species which grow all over the world, except in arctic climates. These trees are famous for being very hardy and durable, and commonly have spear-shaped leaves in dusty to dark green colors.
Olea europaea is one of the oldest plants known to humans, and was certainly one of the first plants people wrote about and depicted in art. In Crete, olive cultivation dates back to around 3,500 BCE, and several other Mediterranean cultures have been growing olive trees for almost as long. The fruit of the olive tree can be processed and eaten plain as table olives, or the fruit can be crushed to yield olive oil, a cooking and dressing oil which plays a key role in Mediterranean cuisine.
Several features distinguish the olive tree. These trees are capable of thriving in very harsh environments, and can live for hundreds and even thousands of years. The older an olive tree becomes, the more gnarled and twisted it appears. Damage to olives above ground caused by storms, fire, and other issues will not damage the root system, which means that the plant can regenerate itself once the roots recover.
The fruit of the olive tree, technically classified as a drupe, can be harvested when it is unripe and green, or allowed to ripen fully to a dark black stage. Depending on the cultivar, the fruits may be suitable for eating, oil, or both. In the case of eating olives, the fruit must be treated to extract some of the bitterness, or it will be impossible to eat. Oil olives are crushed in presses to extract the oil.
There are thousands of olive cultivars grown in the Mediterranean and in climates with similar conditions. Greece, Italy, France, the Middle East all produce a variety of oil and eating cultivars. For the most part, only a few hundred are in widespread cultivation, with more obscure cultivars being considered heritage trees.
The olive tree has long been regarded as a symbol of peace and renewal. For this reason, it is commonly seen in landscaping around embassies and other facilities which have an interest in international relations. Olives are also used for general landscaping because of their hardiness, durability, and simple beauty. However, when used in landscaping, it is advisable to prevent development of the fruit so that it does not attract insects.
Kalamata olives.

Olive tree fruit can be harvested when green.

The fruit of the olive tree is used to make olive oil.

Olives are highly popular around the Mediterranean, and feature prominently in that region's cuisine.