An exfoliant is a substance that removes the top layer of skin cells from the skin. It may be a physical substance that rubs off the skin cells, a chemical substance that destroys the layer of cells, or even a laser. Many different exfoliant types are available for the cosmetic market, ranging from cheap to expensive, and exfoliants may even be made from household substances like oatmeal. After an exfoliation treatment, the skin may appear smoother and look clearer, after the top layer of skin cells have been removed.
Skin grows in such a way that the outer layer is dead cells; new cells are constantly growing from underneath. The outside of skin is a protective layer that has to withstand normal environmental stresses such as wind, water and touch. When the skin cells get to the outside, they are dead and they fall off over time, but not all at once, which may leave a patchy or dull appearance on the skin. An exfoliant simply lifts this dead layer of cells off before it would otherwise have fallen off naturally.
Physical exfoliants are gritty substances, which when rubbed gently over the face scratch the old skin cells off. They can also remove dirt and makeup on the skin. Small particles tend to be less irritating to the skin than larger particles, and may be more suitable for sensitive skin types.
Many different types of commercial exfoliant are on the market, containing such particles as clay or powdered seeds. Homemade exfoliants are also an option, with powdered oatmeal one such ingredient. Beauty salons may offer microdermabrasion, which is an exfoliating treatment using gritty substances, but under the control of a machine rather than hand rubbed.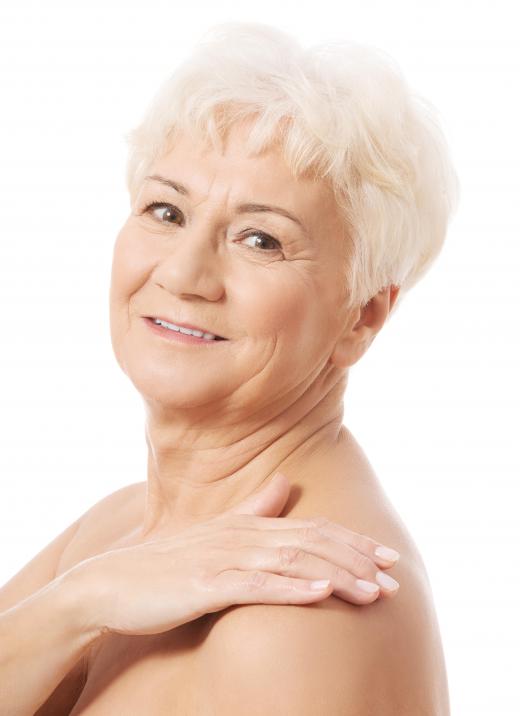 Acid peels are another type of exfoliating treatment, and these are available in beauty salons or clinics. These techniques burn off the top layer of skin cells which then fall off as skin flakes. Lasers can also destroy the dead layer of cells, leaving behind newer skin than before. These types of treatment tend to be more expensive than the physical treatments, but may produce more visible results.
After an exfoliation treatment, skin tends to feel drier, because the natural oils are rubbed off along with the skin. Typically, moisturizer is the next step of a beauty regime after the skin is washed clean. Too much exfoliation, such as daily use of an exfoliant designed to be used weekly, can cause skin irritation, redness and dryness.
AS FEATURED ON:
AS FEATURED ON:

By: bit24

Sugar is a natural exfoliant that is used in many body scrubs.

By: Piotr Marcinski

Exfoliating cream can be used to wash away dead skin on the face and reveal brighter, younger-looking skin.

By: Nobilior

Exfoliant treatment can make a skin appear smoother and clearer.

By: spotmatikphoto

Laser ablation treatments are very effective at exfoliating skin, but require several weeks of recovery.

By: gosphotodesign

Moderate exfoliation can help promote the growth of new skin.

By: belahoche

Acid peels are a type of exfoliating treatment that is often available at beauty salons.

By: Konstantin Yuganov

Moisturizing cream may be applied to prevent dryness following a skin exfoliation procedure.