What Is an Electric Viola?
The electric viola is a four-stringed instrument for band and orchestra that can be amplified for live performances. The instrument typically has a quarter-inch jack that can be plugged into an amplifier or directly into a PA system. Commonly used in rock groups, there is typically only one violist in the band. It is a great instrument for frequently gigging musicians. Rock bands such as The Velvet Underground, Linkin Park, and Kansas have used the electric viola in their musical performances.
The bodies of many electric violas are very different from classical versions. While the classic model is made of wood with a semihollow body, many electric models are hollowed-out silhouettes of the traditional version. Traditional orchestras typically incorporate numerous nonelectric violas with overhead microphones to amplify the sound, but bands or musical groups that only contain one or two violists will often use the electric model.
The maple body is a quality material for these stringed instruments, though the colors available for an electric viola are almost too numerous to count. Most electric viola models have built-in EQs, volume knobs, and sometimes tuners. These features are similar to those of the acoustic-electric guitar. Violists can normally locate the tuners behind the bridge of the instrument. To capture string vibrations, the electric viola has installed pickups.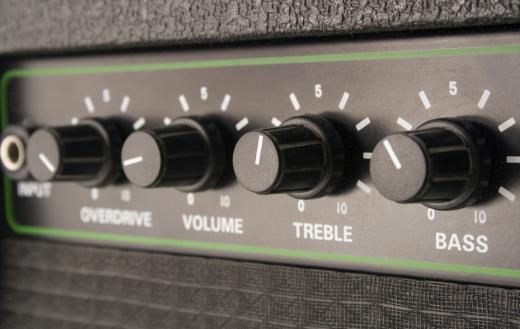 Electric violas are carried in major music retail outlets, and models are abundant online. The price range varies greatly between high and low-end models. Beginner electric violas can be purchased at around $250 US Dollars (USD), and the strings cost about $8 USD. Higher-end models can run from $2,000 USD and above. Protective cases are sometimes included with the purchase of the instrument or can be bought independently for $40 to $100 USD.
Running effects pedals through the instrument can enhance and thicken its sound, especially in the style of rock. Guitar effects pedals can be applied to the electric viola and sound best when run through a guitar amp. These effects can provide a rich, powerful sound that can add distortion, chorus, tremolo, and a number of other effects. A normal quarter-inch instrument cable will work to plug in the instrument.
Electric violas are excellent for practicing solo as musicians can plug in headphones to the instrument via a quarter-inch jack. They can also plug them into a traditional guitar or keyboard amp. That way, the volume can be adjusted to the user's liking.
AS FEATURED ON:
AS FEATURED ON:

By: schankz

An electric viola uses a pickup to amplify string vibrations.

By: matt&stustock

An electric viola is a four-stringed instrument for band and orchestra that is typically plugged into an amplifier or directly into a PA system.