What Is an Electric Charge?
Electric charge is a physical property that occurs naturally in matter. An object with an electric charge interacts with other electrically charged objects in specific ways, experiencing either an attractive or repulsive force. The nature of the force is determined by what type of charge, positive or negative, the object possesses. This, in turn, is determined on the subatomic scale by particles known as protons and electrons.
All matter is composed of atoms, which consist of a nucleus — a clump of protons and neutrons, which are two types of particles — and particles that orbit the nucleus, called electrons. The force of attraction between protons and electrons in an atom helps hold the atom together. Negatively-charged electrons and positively-charged protons attract one another. Neutrons have no electric charge.
The protons and electrons in an atom are equal, so they balance each other out to create a net charge of zero. It is possible, however, for the atom to lose or gain electrons through interactions with other atoms. When this happens, the atom becomes an ion, an atom that carries a net positive or negative charge.
Ions that have more electrons than their original elemental form carry a negative charge, while those with fewer electrons carry a positive charge. The charge causes them to attract or repel other charged particles. Chemical compounds can be formed when a positive ion and a negative ion are attracted and bond to one another. For example, the positively charged sodium ion, which is missing one electron, forms an ionic bond with the negatively charged chlorine ion, which has an extra electron, to create the neutral molecule sodium chloride, also known as table salt.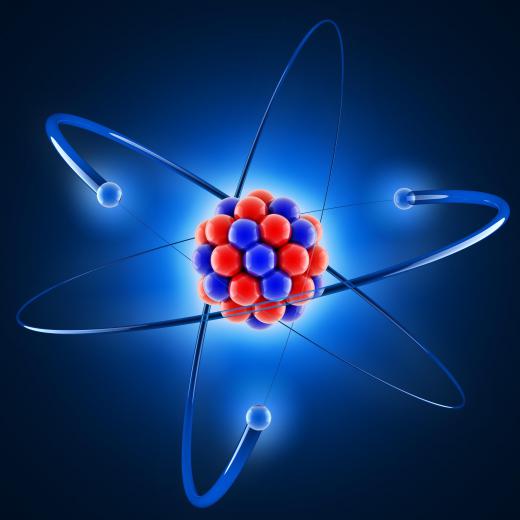 The attraction and repulsion caused by electric charge can be used to create an electric current, or flow of charge, and a material that can transmit an electric current is known as a conductor. Metals are commonly used as conductors because the arrangement of their atoms allows electrons to pass freely from atom to atom. When a positively-charged terminal is attached to one end of a metal wire and a negatively-charged terminal to the other, an electric field is generated by the charges. The electrons migrate towards the positive charge, creating an electric current.
AS FEATURED ON:
AS FEATURED ON:

By: Jiri Hera

Sodium chloride, also known as table salt, forms when a negative and positive ion bond to one another.

By: koya979

Electrons are the negatively charged particles that orbit the positively charged nucleus of an atom.