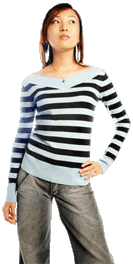 An egg chair is a chair with a design which is reminiscent of an egg. The term "egg chair" may refer specifically to the famous Egg Chair developed by Arne Jacobsen in 1958, or to any number of variants on the design produced after this point. This particular style of chair is often associated with the "mod" look, and may appear in some modern design schemes which play with themes from the mod era in design.
The basic design of the egg chair is fairly simple: the chair is like a hollowed-out egg, with a hole cut to allow someone to sit inside. Some are more pod like, especially in the case of ball chairs, a similar design which is sometimes described as a room inside a room, while others have more of the structure of the egg cut away, creating a chair which cradles the body, but does not isolate the sitter. The egg is supported on legs which raise the chair to a comfortable height. Some variants have a hanging frame, with the egg chair being suspended rather than supported from below.
Classically, an egg chair is entirely upholstered. The original mod designs were often covered in solid patterns, but prints can be seen in some more modern and reupholstered chairs. These chairs are typically quite comfortable, and are sometimes compared to a womb, since the shape is well suited to nestling deep into the chair. Throw pillows may be used as decorative accents or to provide support to someone sitting in the chair.
Some designers have created some innovative variations on the egg chair. For example, the chair may have built in shelves, speakers, or drawers. The isolation of the ball or globe chair variant may be harnessed to create excellent acoustics with little interference from the outside, allowing people to relax in the chair and listen to music. Designers have also created minimalist versions, such as chairs with a frame and no upholstery in a deconstructed version of the egg chair.
Some furniture stores carry egg chair designs or can order them for customers. It is also possible to order custom versions, including chairs with specialty upholstery. Several companies have designs which are intended to be as true as possible to the 1958 Egg Chair, for people who would like to explore the roots of the design, while others have taken it in entirely new directions.

Woman with hand on her hip