What is an Annual Report?
An annual report is a statement prepared by a publicly traded company and distributed to employees, customers, shareholders, and the general community. A more detailed copy of this report, called a 10-K, is filed with the United States Securities and Exchange Commission (SEC), which has required companies to issue a statement each year since 1934. The contents of an annual report provide information about how well the business is doing financially, upcoming changes projected for the next year, and the management staff of the company. Concerned parties, such as shareholders, can use this information to make important decisions.
At a minimum, an annual report must include a balance sheet, a report from an independent auditor, an income statement, and a general report on company operations. Most companies, however, use the document as a marketing tool as well, and take time to talk about the history of the industry the company is involved in along with emerging trends. Most include individual reports from the Chief Executive Officer (CEO) and Chief Financial Officer (CFO) of the company as part of a discussion of the company's direction, along with a "Letter to Stockholders" at the beginning of the report. In addition, the report lists pricing trends for the company's stock, and provides a list of major employees and board members along with their contact information.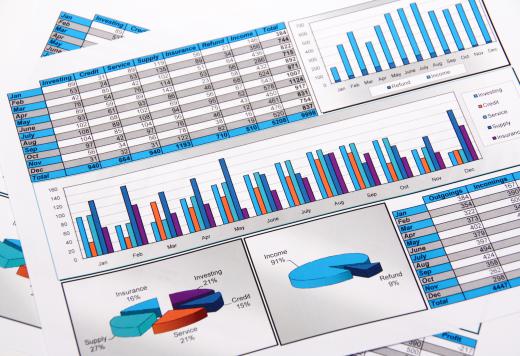 The SEC requires companies to provide annual reports so that consumers can decide whether or not investing in the company is a sound decision. Individuals with assets tied up in the company can also use the information to determine the security of the investment. Closely examining the document can provide clues into where the company is going, how well it is doing on the market, and how the company intends to grow its market position. It can take time to learn how to read an annual report properly, and many consumers prefer to leave the analysis to their stockbrokers or asset managers.
In many cases, an annual report resembles a marketing brochure more than an official document. It is commonly printed on glossy paper, with numerous pictures and cutting edge typography to draw the eye. Some professional graphic design firms specialize in producing these reports, and sometimes their slick nature can be used to conceal important information. When looking at an annual report, seek out the numbers, rather than the company's spin on them. Because it is an audited document, you should be able to trust the numbers to provide the information you need.
AS FEATURED ON:
AS FEATURED ON:

By: Nataliia

Shareholders can use the data in an annual report to make decisions about their investments.

By: thinglass

An annual report provides information on the financial soundness of a publicly traded company.

By: Photographee.eu

Annual reports may be presented by department heads to a company's CEO.