What Is Aesthetic Dermatology?
Aesthetic dermatology is also known as cosmetic dermatology. It is a group of treatments that are used to improve personal appearance rather than address an underlying disease. Some might argue that a few treatments that are classified as "cosmetic" are actually medical in nature, such as procedures for acne. The different types of treatments covered under aesthetic dermatology are chemical peels, wrinkle fillers, microdermabrasion, liposuction, enhancements, and laser resurfacing.
Individuals may consult a dermatologist for a variety of issues related to their physical appearance. Aesthetic dermatology's primary purpose is to improve a person's looks by reducing or eliminating imperfections. The majority of these imperfections are related to the skin, in particular the face, while a few treatments address the nails, scalp and hair. For example, some may consult a dermatologist for brittle nails that do not respond to dietary changes or over-the-counter strengthening treatments.
Most aesthetic dermatology treatments are focused on improving the appearance and texture of the skin, especially on the face. Those who wish to look younger may undergo treatment to fill in wrinkles or remove age spots. Fillers and injections of patented substances are used to improve the condition of facial muscles and plump up depressions in the skin. Several periodic treatments may be needed since the results are usually temporary.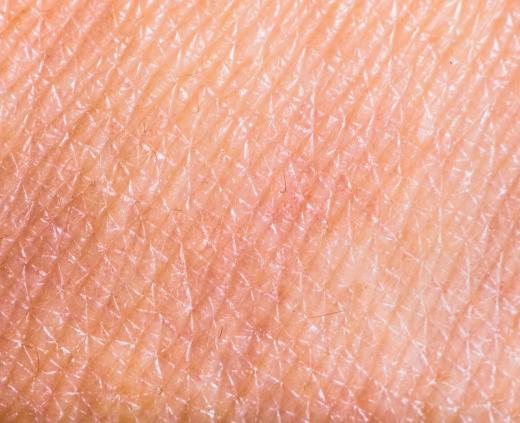 Some forms of aesthetic dermatology may address chronic skin conditions such as eczema and acne. Blue light therapy has been shown to reduce the amount of acne bacteria that is present in the skin. Chemical peels not only rejuvenate skin, but help to remove surface blackheads and encourage comedo extraction. Lasers may also be used to resurface the skin and improve the appearance of mild forms of scarring.
Spider veins, which are enlarged sections of a person's veins that become visibly purple and blue, may be removed by laser treatments. The veins usually need to be exposed to the laser treatments several times in order to respond. These treatments can make the veins return to a normal size and correct visible capillary breakages.
A popular form of aesthetic dermatology is fat injections and liposuction. Lips can be enhanced and made fuller in appearance by injecting collagen or fat deposits taken from another part of the body. Fat may be removed from the neck to give it a more taut appearance. Face lifts are a common cosmetic procedure to address facial sagging and multiple fine lines or wrinkles.
The majority of cosmetic dermatology treatments are vanity based. Individuals usually want to maintain a youthful appearance, perhaps due to societal pressures. Another reason people may undergo these procedures is to keep themselves physically attractive according to self-imposed standards.
AS FEATURED ON:
AS FEATURED ON:

By: Gordana Sermek

Blue light therapy can help clear up acne.

By: Deyan Georgiev

Dermatology is the medical field that focuses on skin health.

By: Ocskay Bence

A major focus of aesthetic dermatology is dealing with acne issues.

By: Alexander Raths

Some forms of aesthetic dermatology may address chronic skin conditions.

By: belahoche

Chemical peels are a popular form of treatment in aesthetic dermatology.

By: hriana

Unsightly spider veins can be eliminated through aesthetic procedures.

By: F.C.G.

Aesthetic dermatologists might focus on mole care and removal.

By: Piotr Marcinski

Individuals seeking to look younger may undergo treatment to fill in wrinkles.