What is a World Heritage Site?
A World Heritage Site is a cultural or natural site, monument, city or geographical habitat that is deemed irreplaceable and threatened, and thus deserving of protection and preservation by the United Nations Educational, Scientific and Cultural Organization (UNESCO). UNESCO believes that many cultural and natural sites provide immeasurable benefits to mankind and should be protected and maintained at all costs. These precious features, either man-made or naturally occurring, face the threats of aging, modernization, globalization or the ravages of man, through industrialization or war.
Many countries are unable to protect or maintain a World Heritage Site for many reasons. Either there is not the public or governmental impetus to make preservation a priority, or there may not be adequate financial resources available. Wars can damage these areas irreparably, as well as expansion or cultural shifts.
World Heritage Sites may be in danger because a country does not have the technical or scientific expertise to salvage an historic building or protect a particular habitat that is home to endangered species. UNESCO will categorize a place in this way to assist in providing funding, increasing public awareness worldwide and the expertise needed to preserve the site. In 1972, UNESCO held the Convention Concerning the Protection of the World Cultural and Natural Heritage, which laid out criteria concerning naming World Heritage Site, as well as its goals to assist countries in maintaining these places.
UNESCO breaks down what it considers a World Heritage Site into two categories: cultural heritage and natural heritage. Cultural heritage includes monuments, which encompasses architectural sites, cave dwellings, and other archaeological structures. In addition to monuments, cultural heritage includes groups of buildings or entire cities. They must have an historical value, and be aesthetically unique and/or beautiful. Natural heritage includes naturally occurring features which are unique and/or scientifically important, as well as geographical features which are habitats that are home to species that may be endangered or natural sites which don't occur elsewhere.
Funding for UNESCO's programs come primarily from required dues from member nations in addition to the sale of publications and donations. Their programs educate nations how to identify, appreciate and set up programs to foster preservation and conservation. It also maintains a list of World Heritage in Danger which includes all the sites by country.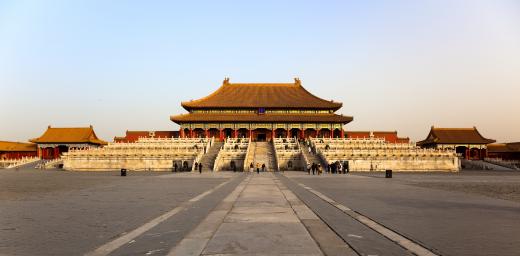 The List includes the Great Barrier Reef of Australia; the Historic Center of Salzburg, Angkor, Cambodia; Wood Buffalo National Park, Canada; The Great Wall of China; the Old City of Dubrovnik, Croatia and the Galapagos Islands, Ecuador. There are hundreds of others sites which have been named a World Heritage Site on the list, and additions continue to be made every year.


By: jjuncadella

The Great Wall of China is an UNESCO World Heritage Site.

By: Alexander

Located in Ecuador, the Galapagos Islands are an UNESCO World Heritage Site.

By: borisb17

The historic center of Salzburg in Austria is one UNESCO World Heritage Site in Europe.

By: Richard Carey

The Great Barrier Reef, a coral reef like this one, is a World Heritage Site.

By: Ilia Torlin

Part of the Forbidden City, an UNESCO World Heritage Site.

By: Bayes Ahmed

The caves at Lascaux, which were painted by prehistoric artists, are a World Heritage Site.