What Is a Unit Coordinator?
Broadly speaking, unit coordinators are administrative professionals who work within organizations to carry out tasks that require collaboration or at least input from different departments. The title is most common in the healthcare realm, where coordinators work for and between doctors, nurses, insurance providers, and pharmacies, among others. In these settings coordinators can also be referred to as unit clerks, unit secretaries, administrative coordinators, administrative assistants, or medical administration secretaries. The specifics of their day to day jobs vary somewhat based on where they work and the sorts of communications that need to be exchanged, but the job is usually considered elementary in terms of skill level. Training and sometimes certification are typically required, but university-level education usually isn't. In most markets there is a lot of demand for this job, too, which makes getting started easier than in many other medically-oriented careers.
Basic Unit Concept
Healthcare can be a complex web of different providers and services, and it's common for different divisions in health-related organizations — hospitals, for instance, or insurance companies — to be divided into "units." Each unit usually has its own specific focus and leadership, and often works the way individuated departments would in a large corporation or business. Coordinators are typically charged with carrying out various administrative and clerical tasks that require collaboration between people and leaders in various units. Sometimes this is as simple as collecting signatures from physicians and care providers who treated a given patient, but they can also encompass complicated billing questions or filings and reports that span various domains.
Core Duties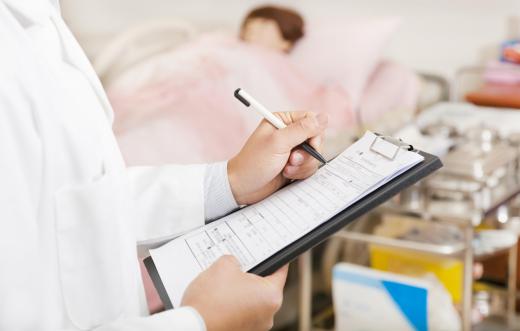 This person's main role is usually to serve as administrative support. He or she might assist the nursing staff with various non-clinical clerical tasks, for instance, or might help direct and answer questions for patients, families, visitors, and physicians. These tasks could include maintaining patient charts and records, ordering supplies, scheduling laboratory and imaging tests, and completing admission and discharge forms. Much of this is dependent on the job specifics and the needs of the moment.
Main Settings
Coordinators in healthcare mostly work in hospitals, but other employment opportunities are also possible. These include physicians' offices and practices, nursing homes, public health agencies, home health agencies, and government clinics and health ministries. Working conditions may vary greatly, but the majority of people in this profession work 40 hours per week, with rotating shifts including weekends and nights.
Required Skills
People interested in this job typically need excellent communication and coordination skills. In general coordinators must also possess a professional attitude, be multi-taskers with the ability to prioritize work, be reliable and dependent, and be able to follow instructions and procedures. In healthcare organizations in particular, coordinators need to be familiar with various medical terms since he or she may be required to copy and compile information from patient charges and respond to physician and nurse orders.
Tips for Getting Started
The minimum requirement for the position usually includes a high school diploma or its equivalent, even though most organizations prefer to hire individuals who have some higher level of education. Interested students are usually wise to take courses in language arts, science, computer skills, secretarial skills, and medical terminology. Foreign language proficiency is also usually an asset.
Some schools, trade schools and vocational schools in particular, have developed special programs and formal training specific for unit coordination jobs. These programs typically focus on health administration broadly, plus topics like hospital management and organization and legal and ethical duties. Most organizations also provide on-the-job training to allow coordinators to further develop their knowledge, skills, and abilities.
In the United States, health unit coordinators may seek certification from the National Association of Health Unit Coordinators (NAHUC). For every three years of certification, the association requires 36 hours of continuing education. Certification allows the unit coordinator to work in any healthcare organization, and is often required for new hires. Many other countries have comparable programs.
AS FEATURED ON:
AS FEATURED ON:

By: Tyler Olson

Unit coordinators work directly with patients and staff in a health care setting.

By: Tom Wang

A unit coordinator may be tasked with maintaining and organizing patient charts.

By: Tyler Olson

A unit coordinator spends much of her time on administrative and managerial tasks.

By: George Wada

A unit coordinator who works in a healthcare setting may assist the nursing staff with various non-clinical clerical tasks.

By: michaeljung

Unit coordinators may work in nursing homes.

By: Carolina K Smith MD

A unit coordinator may order and restock supplies for his department.