A stress ball is a small ball designed to help relieve stress by exercising the muscles in the hand. Actually, this type of device does not necessarily have to be shaped like a ball, and a wide variety of shapes can be found on the market. The main defining characteristic is that it can fit easily in a hand, and it is malleable, allowing a user to squeeze it out of shape while providing some resistance to force the muscles of the hand to work.
Stress balls are supposed to be very useful for mental stress relief, by giving people a tool with which to work out physical aggression and stress. Squeezing one while imagining a reduction in stress is a frequently-recommended stress management tool for people in demanding jobs, and they are often given away at conferences and other corporate events as promotional tools, reflecting their widespread use.
In addition to being useful for emotional strain, a stress ball can be useful for physical strain. Physical therapists use a very similar tool to help people flex and stretch the muscles in their hands. Squeezing a stress ball can reduce the amount of strain associated with repetitive tasks like typing, and it can also help to develop hand strength. For people who have experienced strokes and other neurological problems, these balls can also be used as part of a physical therapy plan to help the patient recover his or her hand and finger mobility.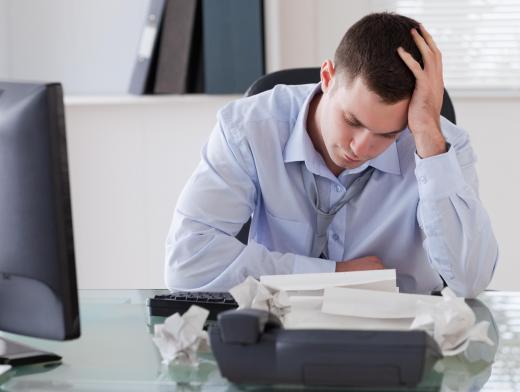 A variety of things can be used to fill a stress ball. The idea is that the filling should be firm, with a slight give to it, forcing people to work to deform the ball. Foam is a common choice, as is gel, or a powder enclosed in a latex packet. You can even make your own basic stress ball by filling a balloon with corn starch. Beans and plastic granules may also be used, although these fillings are less smooth.
Using a stress ball doesn't require any particular instructions or skills: all you need to do is pick the ball up and squeeze it. Repeated use of such a ball can, of course, cause the same problems that other repetitive motions are associated with, but taking breaks from typing and other repetitive tasks to squeeze a stress ball a few times can be beneficial. For people who are stressed or who have problems with anger management, this object can be a great focusing tool
AS FEATURED ON:
AS FEATURED ON:

By: Sea Wave

A person can make their own stress ball by filling a balloon with corn starch.

By: WavebreakmediaMicro

Someone in a stressful employment position might benefit from a stress ball.

By: Sanjay Deva

Using a stress ball doesn't require any particular instructions or skills.