What is a Strawberry Allergy?
A strawberry allergy is an allergy to certain proteins found in strawberries. When people with an allergy are exposed to these proteins, they develop numbness and tingling in their mouths, along with other symptoms such as burning lips, intestinal distress, and congestion. In some cases, the bronchial tubes may swell and close, causing breathing difficulties and severe health problems. Many people who are allergic to strawberries also experience contact dermatitis when they touch strawberries or products with strawberry ingredients, which can cause the skin to turn red, puffy, and itchy.
Being allergic to strawberries is fairly common. Most people notice that they have a strawberry allergy because they experience the symptoms after eating or handling strawberries, and the allergy can be confirmed with allergy testing. The only way to manage an allergy of this type is to avoid eating strawberries and products with strawberry flavoring. This allergy does not extend to other fruits and berries, as it involves a protein unique to strawberries.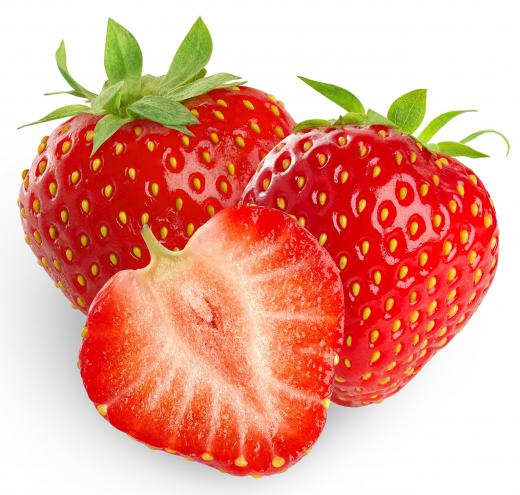 Strawberries can turn up in surprising places. Their leaves are sometimes used in herbal teas and certain cosmetics, for example, and strawberry flavoring is used in medications and skin care products. Shampoo and conditioner may have strawberry extract, as can air fresheners and laundry detergent. Avoiding strawberry products can get tricky, but strawberries are usually disclosed on the labeling, as they are an expensive ingredient. People with strawberry allergies are safe around artificial strawberry flavoring, as this product lacks the proteins found in real strawberries.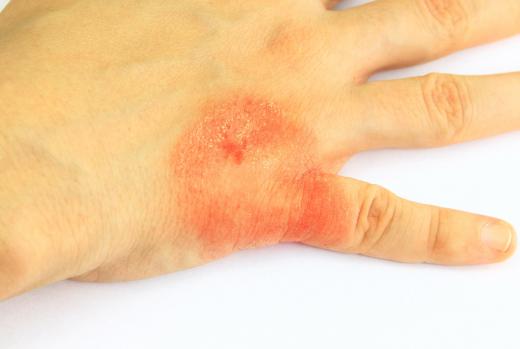 Studies on strawberries and the blood of people with allergies to these tasty little berries seem to suggest that the protein is similar to that which causes a birch pollen allergy. Someone with a birch pollen allergy can develop a strawberry allergy over time. The red color also appears to play a role, as white strawberry cultivars do not cause allergic reactions. White strawberries are also less flavorful, and researchers are working on making them tastier so that people with these allergies can enjoy these fruits.
In most patients, a strawberry allergy is not life threatening. It can be uncomfortable and irritating, especially when things like strawberry pie are served at parties and the patient must explain that he or she cannot eat the dessert. People with strawberry allergies should try to avoid the berries, however, as a more severe allergic reaction can develop at any time. They should make sure to inform hosts of dinner parties and restaurant staff about their allergy, to confirm that they will not be exposed to strawberry proteins during meals away from home.
AS FEATURED ON:
AS FEATURED ON:

By: Anna Kucherova

Strawberries.

By: darkhriss

Skin may become red, puffy, and itchy when in contact with a strawberry.

By: M.studio

Strawberry coulis pooled around a dessert.

By: luchshen

Tests have revealed people with a strawberry allergy have a blood protein similar to that which causes a birch pollen allergy.

By: jillchen

Strawberries can turn up in surprising places.