What Is a Screwdriver Bit?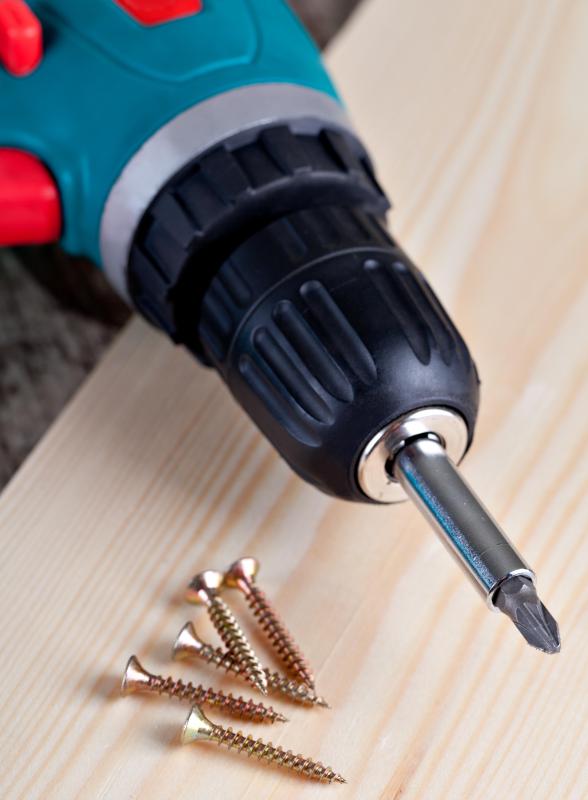 A screwdriver bit is a tip that fits into the end of a manual or electric multi-bit screwdriver. These bits typically have a shaft on one end and a screwdriver tip on the other end. Several types of tips are available, depending on one's needs, including the common straight slot and Phillips bits. Screwdriver bits can be made from either very hard or soft metal. Some bits are even magnetic, and others may have a bit on each end.
Screwdriver bits usually consist of a shaft and a tip. The shaft of a screwdriver bit is typically a hexagonal shape, with six flat sides. This shaft is often inserted into the end of a screwdriver that has a bit holder. The shape of the shaft prevents the bit from turning inside the bit holder.
The tip end of a screwdriver bit may have many shapes. This part of the bit is made to fit into the head of a screw. As the screwdriver is rotated, the bit rotates as well. This action is what turns the screw.
Screwdriver bits are available with several, differently shaped tips. The different shapes are used to tighten or loosen different types of screws. A straight slot screwdriver bit is typically used on a straight slot screw, which is one of the most used screws. The heads of these screws have one single groove across the top.
A Phillips screwdriver bit is used on another very common type of screw. The Phillips head screw typically contains two slots. These two slots are arranged in a cross pattern on the head of the screw. A Torx® screwdriver bit has a tip shaped like a six pointed star. Square and hexagon screwdriver bits are also available.
Powered screwdrivers should only have screwdriver bits made from very hard metal inserted into them. This will help prevent damage to the screwdriver bit. Softer screwdriver bits should be used in manual screwdrivers. The hardness of the bits is often listed the package of a screwdriver bit kit.
Magnetic screwdriver bits, which hold a screw to the bits, are also available. These may come in very handy for small screws, or screws in hard-to-reach places. Instead of dropping a screw that might get lost, an individual can use a magnetic screwdriver bit.
A double-ended screwdriver bit may also come in quite handy. These types of screwdrivers have a tip on each end and a hexagonal shaft in the middle. For instance, a double-ended bit may have a straight slot bit on one end and a Phillips bit on the other end. Instead of inserting a different bit, this type of bit can simply be pulled out and turned around.
By: Gresei

Screwdriver bits are metal pieces that resemble the heads of screwdrivers but fit into power screwdrivers.

By: junej

Power screwdrivers typically require bits made of hardened metal.