What is a Richie Brace®? (with pictures)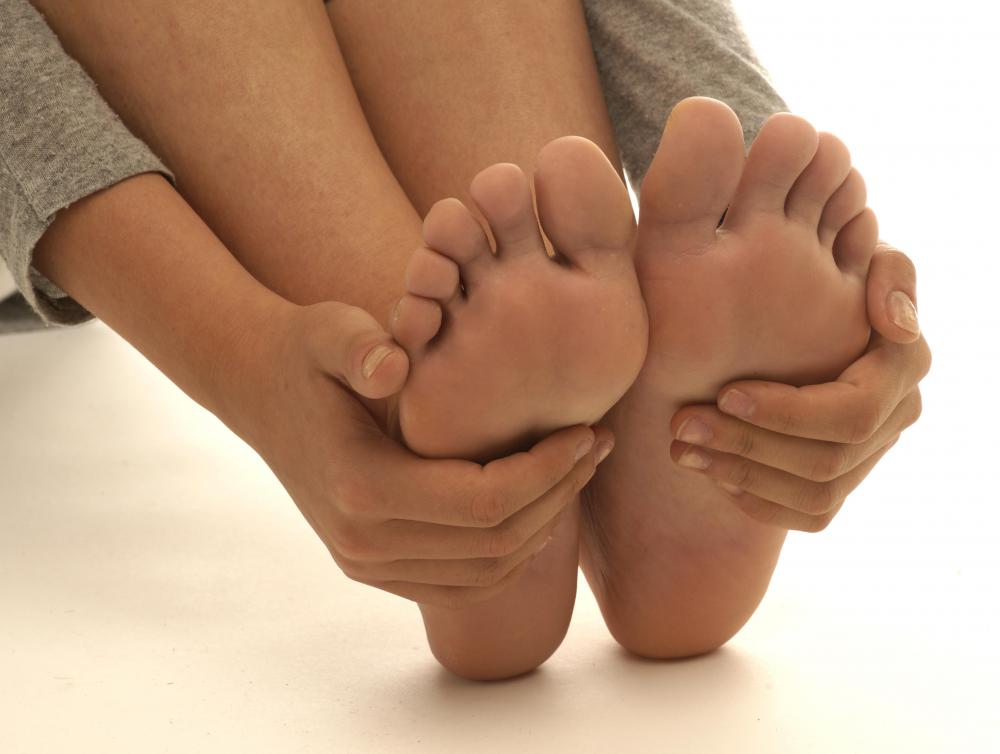 A Richie Brace® is a custom-fitted ankle-foot orthotic (AFO) device specially designed to reduce pain from chronic ankle and foot problems. The original Richie Brace® was designed by Dr. Douglas Richie in 1996. This durable medical device uses a variety of materials including plastic, metal, and elastic to provide support and stability for patients with a range of foot injuries. The original manufacturers of the device indented it for maximum mobility, particularly when used by athletes.
These braces are usually worn during recovery from an injury, but they can be used indefinitely by people with flat feet, foot deformities, drop foot, and chronic deep foot pain. A variety of Richie Brace® models are available depending on the type of injury and the purpose of the brace. The models vary in height from ankle-only support to stability through the lower leg.
These braces are often selected by doctors because of their previous track record of success and convenience. Unlike solid AFO models, this device moves with the foot and ankle to help provide a smooth, normal gait. The Richie Brace® is specially sized to fit inside normal shoes without increasing shoe size. The braces may also be modified to restrict movement in the foot and ankle.
Custom Richie Braces® are molded from negative impression casts. In some cases, the cast is made using plaster splints, but for most patients, a special casting sock is the best option. Using this option, the podiatrist that prescribed the Richie Brace would put a protective, plastic bag over the patient's foot. This would then be covered with a special sock that hardens quickly in the shape of the foot. Since the sock is thin, the doctor can mark important points such as the toes and ankle bones and then carefully cut away the hardened cast.
Once the negative impression is collected, the cast can be shipped off to a special laboratory to begin construction of the Richie Brace®. Several laboratories in the United States and Canada are authorized to construct this device. These companies also offer refurbishing and repair services. In many cases, the cost of this durable medical device is covered by health insurance programs.
The family of Richie Braces® also includes an over-the-counter model that may be used without custom fitting. This device may be found in drug stores, but is often distributed at a hospital or clinic after a severe sprain. This type of Richie Brace® is customized by using an appropriately-sized footplate and adjustable sizing strap. This type of brace is often prescribed to treat breaks or sprains. Over-the-counter Richie Braces® may be used for temporary support while a custom Richie Brace® is under construction.
The Richie Brace® is designed to alleviate long-term foot and ankle pain.

A custom Richie Brace is only available by prescription from a podiatrist.

A Richie Brace may help heal a sprained ankle, but the issue could reoccur if it was caused by a pronation issue or unstable gait.

A Richie Brace may help reduce pain caused by foot deformities.

Runners who have experienced ankle injuries may benefit from a Richie Brace.

A Richie Brace may be needed if a person experiences a bad fall.