A rice chip is a snack food that is created with the use of either white rice or brown rice. Unlike many other snack options, rice chips normally contains little or no artificial ingredients. As a bonus, rice chips are naturally wheat and gluten free, making them an ideal snack alternative for people who need to remove wheat or gluten from their diets.
The basic recipe for a rice chip includes two simple ingredients: white or brown rice and rice bran oil. This combination is used to create a pressed mixture that can easily be formed and baked into chips. In order to enhance the taste of the rice chip, manufacturers will also add in a number of other ingredients, such as sea salt or seaweed to achieve a desired flavor.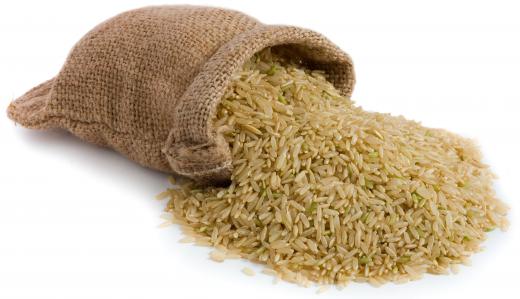 In appearance, a rice chip will bear a striking resemblance to a baked potato chip. The amount of fat contained in the chips is relatively low when compared to several other snack foods on the market today. The carbohydrate content is similar to that of many other snack foods, although the total amount of carbohydrates may come from a higher percentage of fiber and natural sugar. This is in contrast to snack foods that derive carbohydrates from the inclusion of ingredients with little to no nutritional value.
The texture of a rice chip is strong enough to allow it to be served with many types of light dips, such as avocado or onion dip. Some manufacturers of the rice chip follow a recipe that produces a hardier chip that can be used to dip into heavier dips, such as salsa or a bean dip. Depending on the spices used to flavor the rice chip, this snack may be a pleasing alternative to tortilla chips as well as potato chips.
Purchasing rice products in general is easier than ever before. In the case of the rice chip, the snack used to appear only in health food stores. In recent years, the rice chip has become widely available in major supermarket chains along with rice cakes and other types of rice products. While the rice chip products tend to cost a little more than other chips on the market today, the wheat and gluten free nature of the chip allows persons with food allergies or health conditions that are aggravated by gluten or wheat to still enjoy a snack from time to time.
AS FEATURED ON:
AS FEATURED ON:

By: airborne77

Brown rice, which can be used to make rice chips.

By: Vadim Balantsev

White rice and rice bran oil are used to make rice chips.