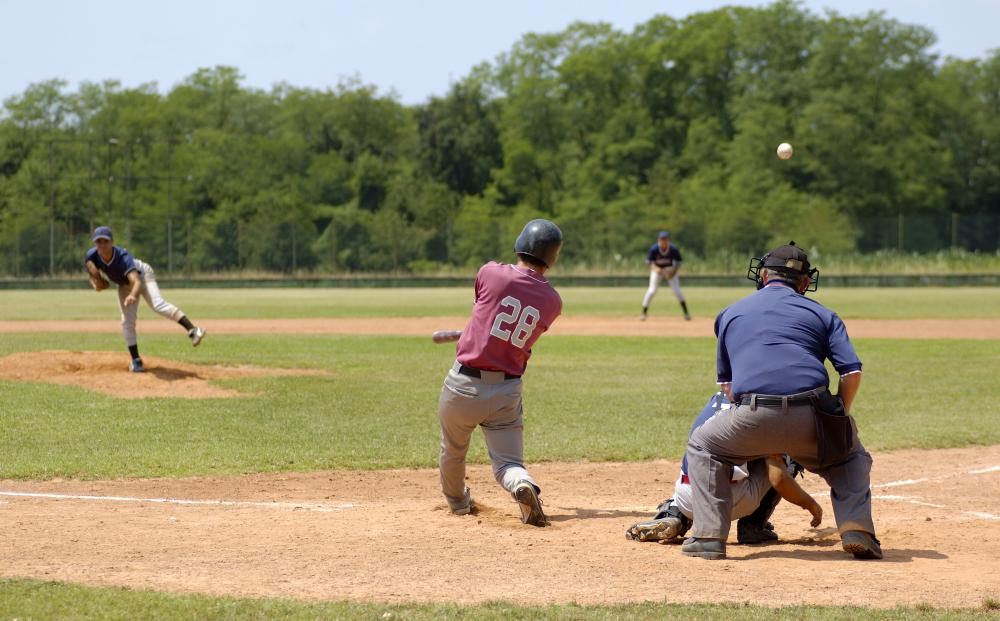 A reaction ball is a training device used to improve reaction time and agility in a number of sports. The ball itself is not shaped like a sphere, but rather like a number of spheres melted together. Usually the ball is made of rubber that bounces well on hard surfaces and is colored brightly to allow practicing athletes to see the ball easily. Athletes use this ball during training by bouncing it and attempting to catch it, which is difficult because the ball bounces unpredictably and quickly. Many different sports require agility, hand-eye coordination, and fast reaction times, so a reaction ball is a very popular training tool.
Sometimes called a reflex ball, a reaction ball works because of its shape. The many different sides of the ball cause it to bounce in a way that athletes do not have the ability to predict. Of course, the ball is not actually bouncing randomly but in accordance with physics. For training, the only important feature is that the athletes themselves cannot determine which direction the ball will bounce. As such, it does not matter what precise configuration is used when designing the ball.
There are several different ways to use a reaction ball. If one is playing by one's self, it is possible to bounce the ball against a wall so that it comes back toward the person who threw it. This is important, because it can be nearly impossible to catch the ball if it bounces out of one's reach. For practice with two athletes, each person can take turns bouncing and catching the ball.
One wants to make it difficult to catch the ball not because one must run to reach it, but because one must decide in which direction to reach. Many people find that making a game out of practicing with the ball can help influence a person's drive to catch it. Making quick decisions and improving the speed with which one acts on those decisions is essential to many sports. Baseball, basketball, and tennis are all sports that require this capacity to change one's directive on the fly.
Even if one is not training for sports activities, playing with this device can help keep one's hand-eye coordination in good condition as well as provide exercise and entertainment. Having good reaction times can be useful for real-life activities such as driving as well. Keeping all the different aspects of one's physical fitness maintained is a difficult task, but a reaction ball exercises a wide variety of mechanisms, all while playing a simple game.
Baseball players can use a reaction ball to become better fielders.

Tennis requires players to be very agile.

Many different sports require excellent hand-eye coordination and fast reaction times.