What is a Ranch Style House?
A ranch style house is an architectural style of home originating in and found most commonly in the United States. It is typically a one story structure that appears low to the ground due to low gabled roofs and extended eaves, and features an open floor plan designed to maximize interior space. Many ranch style houses also come with attached garages, large windows and utilize a spread out, rectangular, L-shaped or U-shaped design.
Ranch houses are generally informal in appearance and are most commonly associated with minimal architectural detailing for both the interior and exterior of the home. This informality along with simplicity and efficiency are hallmarks of the ranch style house design.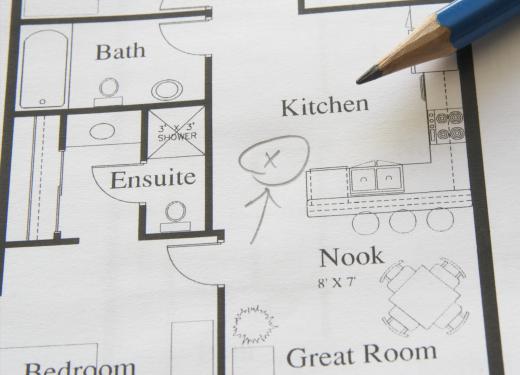 While the ranch style house first appeared in the early 20th century, its popularity surged during the post World War II period, as the population migrated from urban areas to new suburbs built outside of cities. Mass quantities of homes were needed to fill the demand and many developers utilized a quick "cookie-cutter" approach when building these new suburban homes, with the ranch style design being one of the most popular.
The ranch home achieved its greatest popularity in the western United States and is also known as the American Ranch or California Ranch in some areas. Even with its predominantly western origins, the ranch style house is now found in many areas of the United States.
There are several variations on the ranch house theme, including a traditional ranch with a basement, a raised ranch and the split level ranch home. A traditional ranch home with a basement is simply a ranch style house with the main living and bedroom areas located on one main level with a lower basement floor. A raised ranch home is generally a two story design that has the main entry of the home on the first floor with an interior staircase that leads to the main living areas located on the second floor.
A split level ranch house is typically a three or four level design, most notable for the use of half floors dividing living spaces from bedroom spaces. One example of a split level ranch home may have the main entry on the center floor, on the same level as the garage. Off of the main entry is a small stairway that leads to the raised upper level and another stairway that leads to the lower level.
AS FEATURED ON:
AS FEATURED ON:

By: S. Rogo

A ranch style house usually has an open floor plan.

By: trekandphoto

Many ranch houses have an attached garage.

By: fallesen

Ranch houses are only one level.

By: johnbraid

Raised ranch homes typically have an interior staircase that leads up to the main living areas on the second floor.