What is a Pulse Pedometer?
A pulse pedometer is a combination of a pulse monitoring system and a pedometer. The pulse monitor allows for pulse visibility and can help a person stay within the ideal fat-burning zone during exercise. The pedometer allows tracking of steps taken and distance and calories burned. This device may be used for personal exercise monitoring or to help obtain accurate medical data about a person's heart health.
The pulse pedometer comes in a variety of forms. The most popular devices come in the form of a wrist band or ring. As technology advances, the monitoring devices can be manufactured smaller and smaller to allow for easier and lighter tracking. The wrist or fingers are great places to monitor pulse because they produce a strong pulse, created by the veins near the surface. This is why people are instructed to check for a pulse with their fingers at the wrist.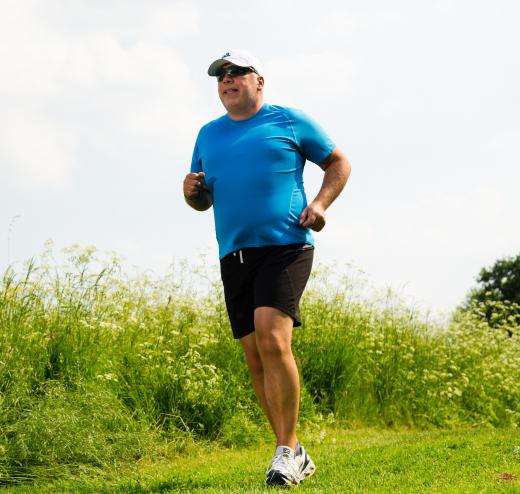 The combination of features provided by a pulse pedometer is ideal for cardiovascular exercise. Monitoring pulse in particular is useful because a person can continuously monitor his or her pulse to make sure it remains in the target fat-burning zone. It is easy to find a person's target heart rate zone with the many free calculators available online. Most of these devices come with a large, easily readable display screen for easy monitoring.
The pulse pedometer also allows for easy and accurate tracking of steps taken during exercise or however long of a period someone chooses to monitor. Every model will have slightly different features to choose from. The accuracy of the device is somewhat dependent on these features. For example, calories burned and distance traveled cannot be calculated based on steps alone; other things that need to be considered are stride length and speed. To make up for this, many devices will take this information into account.
Another great use for the pulse pedometer is collecting medical data. Physical activity is necessary to determine heart health. When risks for heart disease are present, a doctor will likely want to check the heart's capacity under stress. This is usually done in the doctor's office, but results from such a short test are not very reliable. If the doctor wants more accurate results, he or she may prescribe a heart monitor with or without a pedometer.
Different models of the pulse pedometer will produce different results. Often, though not always, less expensive devices are less expensive for a reason. Usually it is because it doesn't provide accurate results or it is difficult to use. Look into the quality of the device before purchasing by looking for online reviews of the product to make sure others were happy with their purchase.
AS FEATURED ON:
AS FEATURED ON:

By: Picture-Factory

Pulse pedometers measure how many steps a person takes and heart rate.

By: pankajstock123

Someone who is at risk for heart disease may be asked to wear a heart monitor by his or her doctor.

By: hartphotography

A pulse pedometer may provide users with accurate tracking of steps taking during exercise.