What is a Proton Pump Inhibitor?
A proton pump inhibitor is a type of stomach acid blocker known as an anti-ulcer drug. It works by preventing acid production in the stomach. There are several kinds of proton pump inhibitor available, but they all work in the same way. The differences are the ways they are broken down by the body and their drug interactions.
Antacids work by coating the stomach and neutralizing the acid produced. A proton pump inhibitor keeps the stomach from producing acid in the first place. This offers better, longer-lasting relief from acid symptoms.
Conditions usually treated with a proton pump inhibitor are esophagitis, gastroesophageal reflux disease, and peptic ulcers. Taking a proton pump inhibitor will keep acid from eating at the stomach lining and causing ulcers. For existing ulcers, the lack of acid will allow them to heal.
The proton pump inhibitor misoprostol has been used to induce labor in pregnant women. It is also used to induce bleeding in the case of a missed miscarriage, which is where the embryo or fetus dies, but is not expelled. Misprostol is used in some countries for chemical abortions. For this reason, it must not be taken by women who are pregnant or may become pregnant. Women who have taken this drug must use a reliable form of birth control during use and for one full menstrual cycle after.
Side effects of proton pump inhibitors are uncommon. When side effects occur, they include nausea, headache, diarrhea, constipation, and rash. They should not be used by nursing mothers, and use during pregnancy should be carefully monitored by a medical professional. The proton pump inhibitor misoprostol can cause menstrual disorders, including heavy bleeding.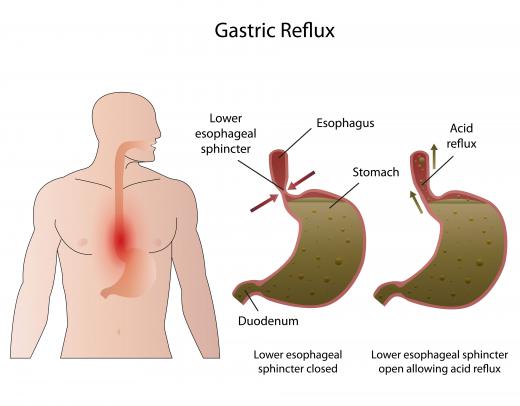 Proton pump inhibitors are available over-the-counter and by prescription. Patients taking an over-the-counter proton pump inhibitor for frequent heartburn should consult their health care providers to rule out a more serious cause. It recommended that a person take no more than three two-week courses of the medication in a twelve month period.
In 2010, the American Food and Drug Administration issued a warning about fracture risk in patients using proton pump inhibitors. There is an increased risk of fractures of the hip, wrist, and spine for patients who take proton pump inhibitors at high doses or over a long period of time. Patients taking these drugs over-the-counter should be careful to limit their doses to the minimum necessary. Proton pump inhibitors should not be used for a period of more than 14 days. Those with osteoporosis should take calcium and vitamin D supplements with their proton pump inhibitors.


By: rob3000

Proton pump inhibitors reduce stomach acid levels and are often used to treat peptic ulcers.

By: peterjunaidy

People with osteoporosis should take calcium and vitamin D supplements with their proton pump inhibitors.

By: kmiragaya

Proton pump inhibitors prevent acid from being produced in the stomach.

By: bilderzwerg

Gastric reflux disease is a condition that can be treated with a proton pump inhibitor.

By: Radek Sturgolewski

A proton pump inhibitor, misoprostol is sometimes used to induce labor late in a woman's pregnancy.

By: vgstudio

Drinking plenty of water may help decrease the symptoms of acid reflux.

By: Fotoluminate LLC

Proton pump inhibitors can increase the risk of bone fracture in some users.