What is a Portable Hood Dryer?
A portable hood dryer is a hairdryer that has a rounded shape that resembles a hood or lampshade and fits fit over the top of a person's head. A hood dryer allows the entire head to be dried at the same time. Portable hood dryers are like those used in beauty salons, except that they are not fixed to a chair or other object. These dryers can be moved as needed and weigh much less than those found in commercial hair salons.
There are different types of hood dryers that are portable for home use. One type is a hood dryer that is on wheels for easy mobility. This type has casters on the bottom that are attached to a long pole. The portable hood dryer sits on top of the pole, which can be adjusted up or down as needed to accommodate the person using it. The hood dryer can be rolled to the location where it will be used, and it merely need to be plugged in to be ready for use. After the person is seated under the hood dryer, it can be adjusted, turned or tilted to center the hood dryer over the person's head to dry his or her hair evenly.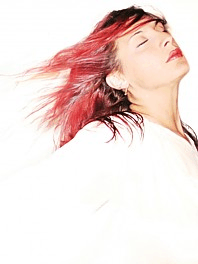 Another type of portable hood dryer is one that is on a stand. These are on a round base and can fold flat for easy storage. They also might have a carrying handle for easy portability. These portable hood dryers will need to be placed on a table behind the person, but the height can be easily adjusted. Portable hood dryers such as these are ideal for people who travel extensively or for beauticians who visit shut-ins.
Hood hair dryers are preferred in professional salons because they allow for even drying of a client's hair. They also allow the customer to relax comfortably while the heat is working, because a person could be underneath the dryer for an extended period of time. The hands-free operation allows even those with limited mobility to dry their hair comfortably. These reasons are also good reasons to use a portable hood dryer at home. Home users will find types of hood dryers that are affordable and easy to use readily available from beauty supply stores or many online retailers.
AS FEATURED ON:
AS FEATURED ON:

Woman in breeze