What Is a Poinsettia Cocktail?
A poinsettia cocktail is a mixture of triple sec liqueur with champagne and cranberry juice, and it sometimes also has vodka in it. Poinsettia cocktail is usually served in a stemmed red wine glass, which is rounder and features a wider mouth than other stemmed wine glasses. This drink can also be found served in a champagne flute, especially during New Year's parties in the United States, at which this cocktail is a popular celebratory drink. A poinsettia cocktail does not contain any of the poinsettia plant.
Making poinsettia cocktail is simple and brief, but can have a big presentation impact when served to guests. When this drink is made, a stirred mixture of triple sec and cranberry juice rests in the glass with ice before a dash of champagne tops it off. If vodka is part of the mix, it is added with the cranberry juice and triple sec. All of the ingredients in this cocktail should be chilled before making this drink.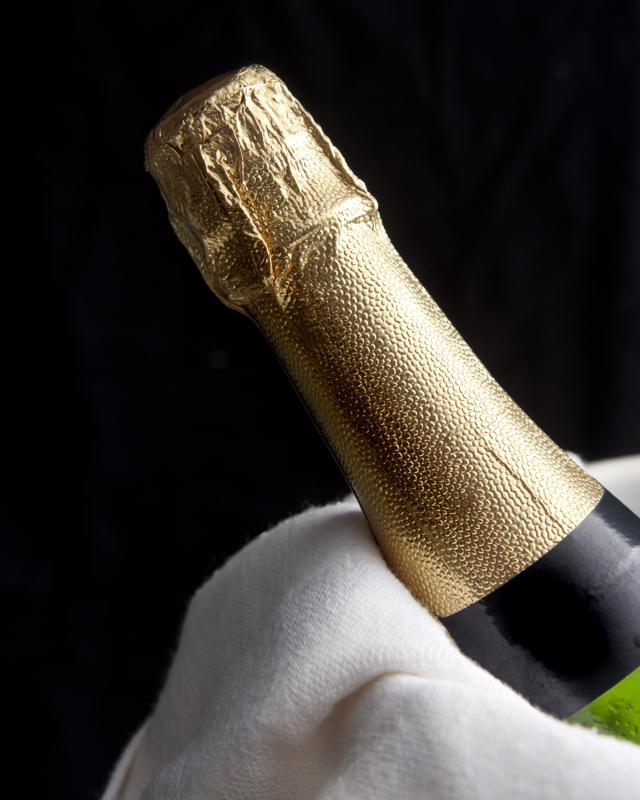 The tricky part of making a poinsettia cocktail can be getting the right mixture of liquids in the glass. Using measuring equipment to get the right amounts can help fill the glass in more precise proportions. Most veteran poinsettia cocktail makers recommend filling the glass about a third full before adding ice to help ensure that enough room is left in the glass for the ice and champagne. This drink can contain varying amounts of vodka, which in small amounts gives a refreshing alcoholic boost to the poinsettia cocktail, and in large amounts can transform this typically light cocktail into a noticeably stiff drink.
Triple sec is an orange-flavored liqueur made from orange peels. Some recipes for poinsettia cocktail drinks call for Cointreau®, a brand name version of triple sec with a unique flavor that sets it apart from other types of triple sec. This cocktail is sometimes garnished with a citrus slice or ribboned orange peel.
The poinsettia plant that is the namesake of this cocktail is a popular winter holiday gift plant with distinct, intensely red flowers on a pine-green leafy plant. Though many believe it to be highly toxic to humans and cats, poinsettia is only likely to give the eater an upset stomach when ingested in significant quantities. It also has a sharply bitter and unpleasant flavor that clings to the tongue. Consequently, there is no poinsettia plant in this cocktail.
By: travis manley

Vodka, which is used to make poinsettia cocktails.

By: volff

Poinsettia cocktails are generally garnished with an orange slice or other citrus fruit.

By: frisotop

A poinsettia cocktail includes champagne.

By: Sergey Nivens

A poinsettia cocktail is made with cranberry juice and triple sec.