Picadillo is an easy-to-prepare, spicy ground meat dish that is popular in Mexican, Cuban, Puerto Rican, and Filipino cuisines. The name picadillo derives from the verb picar, which means to mince into small pieces in Spanish. Basic ingredients include ground meat, tomatoes, and onions, but each country has its own version with various additional ingredients. It is typically served with rice, or warm tortillas. It is also often used as a filling for tacos, empanadas, or wraps.
The Mexican version of picadillo is a common dish in most families. Lime juice is often added to a ground beef and onion mixture as it browns. Sugar or honey is typically added as well as chili peppers and Mexican spices, making for a sweet and spicy dish usually served with tortillas and beans. It can also be used as a type of Mexican stew.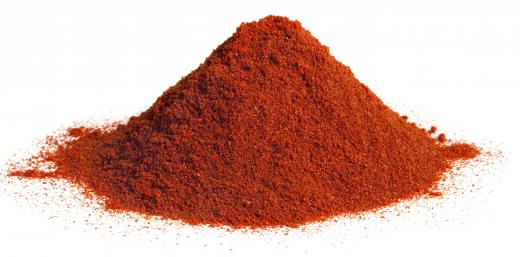 In Cuba, the dish calls for the addition of potatoes, olives, capers, and raisins. The meat is usually sauteed in olive oil and wine. Traditionally, Cuban picadillo is served with black beans and rice. People in the Dominican Republic often add chili peppers, olives, raisins, cider vinegar, and hard-boiled eggs.
The Puerto Rican version sometimes adds ham, cheese, raisins, and olives to the basic meat and tomato mixture. The ground meat is browned in olive oil or sometimes annatto oil, which is made from the achiote seed. Achiote seeds are used often in Latin American cuisine for flavoring and coloring. Puerto Ricans usually use picadillo as a filling for empanadas or fritters.
Filipinos usually add potatoes or chayote to a ground beef and tomato mixture. Chayote is a plant from the gourd family that produces a squash like vegetable that is eaten either cooked or raw. Carrots, spinach, or other vegetables, as well as fish sauce are sometimes added.
Here is a basic recipe for a Mexican-style picadillo, which can be altered as desired with the above ingredient suggestions:
Ingredients:
1 pound ground beef (ground turkey can be substituted)
1 chopped onion
1 4 oz. can chopped green chilies
1 28 oz can diced tomatoes
2 cloves garlic, minced
1 tsp chili powder
1 tsp cinnamon
Salt and pepper as desired
To make the dish, brown the ground meat. Add the chopped onion, garlic, and green chilies. Cook five minutes. Add tomatoes and spices. Simmer 20 minutes, and serve with rice or as a taco filling.
AS FEATURED ON:
AS FEATURED ON:

Chili powder, one of the ingredients in picadillo.

By: Eagle

Achiote seeds, which are used to make picadillo.

By: Natika

People in the Dominican Republican often add hard-boiled eggs to picadillo.

By: Giuseppe Porzani

Some recipes call for chili peppers.

By: margo555

Cuban versions of picadillo often feature olives and capers.

By: Aleksandar Todorovic

Many restaurants in Old Havana serve Cuban picadillo with black beans and rice.