What is a Physician Assistant?
A physician assistant (PA) works under the supervision of a licensed physician or surgeon. The job of a physician assistant is to practice medicine according to the needs and wishes of a supervising doctor or surgeon. Therefore, the job duties of a physician assistant may vary depending on a number of factors, including the type of medical practice or facility in which the PA chooses to work.
Physician assistants are trained to provide a range of services, including those that are diagnostic, therapeutic, and preventative in nature. However, all services provided by a physician assistant must be under the delegation and supervision of a physician. Under such supervision, physician assistants take and record medical histories; and examine, diagnose, and treat patients. They also order diagnostic tests and x-rays, interpreting the results of such tests as instructed. In the United States, physician assistants may also prescribe medications in most jurisdictions.
A physician assistant may perform suturing tasks, as well as splinting and casting. Physician assistants record progress notes and counsel patients. They also order therapy for patients, often providing the ordered therapy, depending on the needs of the physicians for whom they work. In some cases, they are responsible for ordering medical supplies and equipment. Often, physician assistants have managerial duties in medical offices or facilities as well.
Though a physician assistant must work under the supervision of a physician, he or she may actually act as the primary care provider for a patient. This typically occurs in rural or inner city clinics in which a supervising physician may be present only a couple of days per week. In such cases, physician assistants confer with the supervising physician concerning the care of the clinic's patients, but provide much of that care themselves.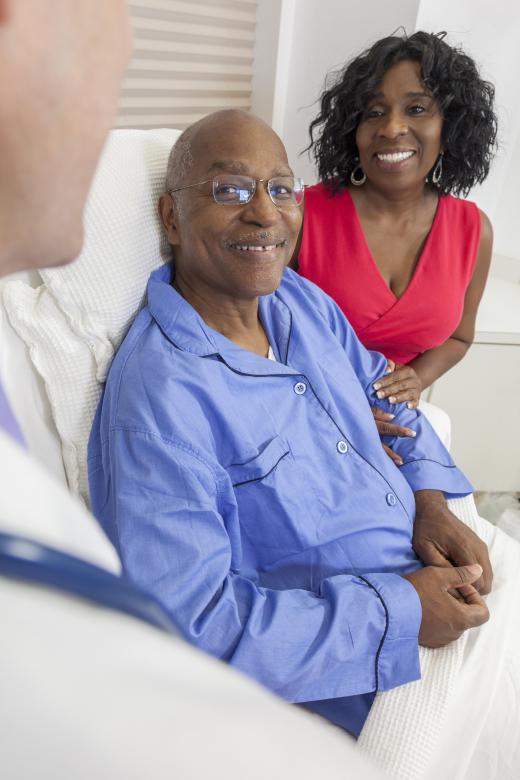 The responsibilities of a physician assistant are determined by both individual state law and the requirements of the supervising physician. Some states and physicians afford individuals in this field a wider scope of practice than others. Pay rates vary as well, depending upon the state and type of practice in which the physician assistant chooses to work.
In the United States, an individual interested in a career as a physician assistant must complete an accredited PA education program. These programs usually require full-time attendance and take a minimum of two years to complete. After completing an accredited PA program, an individual must pass the Physician Assistant National Certifying Examination in order to be certified. The National Commission on Certification of Physician Assistants (NCCPA) administers this exam. Once certified and practicing, continuing education requirements may apply as specified by state law.
AS FEATURED ON:
AS FEATURED ON:

By: Leah-Anne Thompson

Physician assistants can order X-rays.

By: jonrec

A physician's assistant may perform many of the tasks a doctor can do.

By: spotmatikphoto

Physician assistants can prescribe medications in most U.S. jurisdictions.

By: michaeljung

Physician assistants may help patients document medical history.