What is a Personal Microwave?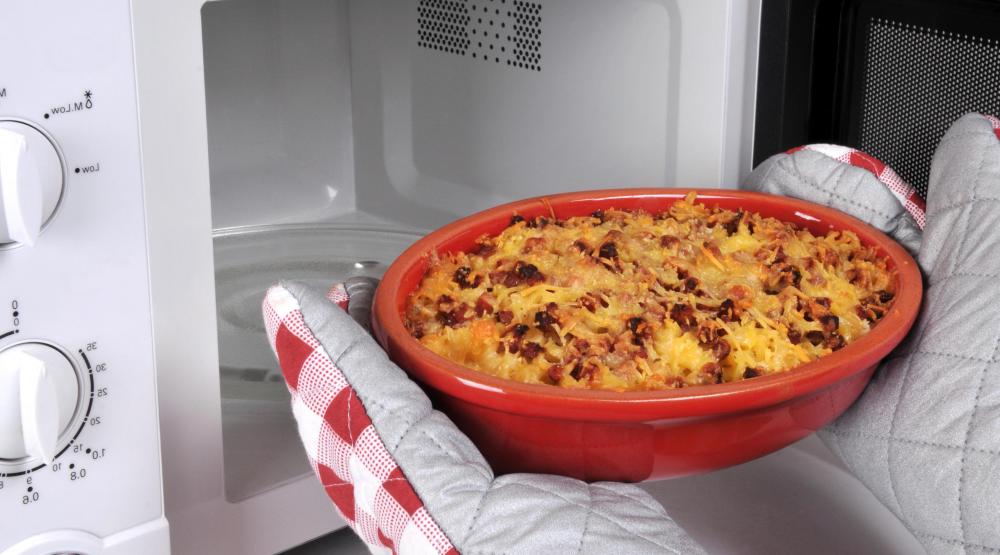 When the first microwave ovens were marketed to the general population, the first words consumers would have used to describe them were not compact or portable. Even today, a standard microwave oven tends to occupy the same space in a kitchen or break room for years. But there is now a truly portable variant on the standard "nuker" called a personal microwave.
A personal microwave generally fills the same consumer niche as other miniature appliances, such as dorm-sized refrigerators and miniature sewing machines. There is a handle installed in the top of the personal microwave unit for easier portability, and the total weight is generally less than 12 pounds. The controls on a personal microwave are very similar to those found on standard microwaves, but are placed on the top in order to provide maximum space for the front-mounted door.
While a personal microwave may not have the total wattage of a standard microwave oven, it can deliver 600 watts of cooking power, generally enough to heat beverages, reheat left-overs, cook personal-size frozen dinners and even pop a bag of microwaveable popcorn. A small turntable allows for more even cooking, and a limited view of the food as it cooks is possible. Cooking times can be adjusted by adding varying increments of time on the top-mounted controls.
While some critics have wondered aloud about the actual usefulness of a personal microwave, many buyers find the appliance is ideal for office cubicles, dorm rooms, garage workshops and recreational vehicles. Standard microwave ovens may not be cleaned as often as necessary, and the competition for microwave access in a communal kitchen or break room can be fierce. Since many people only use microwave ovens for reheating small portions of left-overs or personal frozen dinners, a personal microwave with a .5 cubic foot capacity and small footprint is ideal.
Currently, a personal microwave oven can be purchased through specialty stores such as Sharper Image. One of the most popular brand of portable microwave is called the Iwavecube, which can be ordered primarily through authorized online dealers and larger appliance stores.
By: Richard Villalon

Personal microwaves are ideal for smaller spaces.

By: Oleksiy Mark

A personal microwave may or may not have the total wattage of a standard microwave.

By: Winai Tepsuttinun

A personal microwave may have a turntable that is slightly smaller than that of a traditional microwave.