What is a Patient Care Advocate?
Patient care advocate is a term not fully defined. It may encompass many people who work either in a direct helping relationship to patients or in other areas to smooth the path of receiving, and often paying for or obtaining, necessary medical care. There are diverse roads to this profession, and several possible definitions depending on who employs the advocate.
Many people are most interested in knowing how to become a patient advocate, and they might start from a number of places. The job can be held by social workers, medical workers of a variety of types, and by those who have simply spent a great deal of time involved with the health delivery or insurance industry. There is very little training beyond initial experience or degrees in these fields, though this may change. Instead, many of these employees receive on the job training, working for hospitals, insurance companies, or health advocacy organizations. Some people simply start their own businesses, and related patient advocate careers include doula work and chaplain positions.
There tends to be great difference between patient advocates who serve a patient or that serve an organization with a different focus. Directly helping a patient means there is unilateral emphasis on providing that help, where the greatest concern is trying to meet patient needs. This is often of greater satisfaction to people who are in need of assistance because they can be assured of the advocate's focus on client instead of employer. In fact, the client may be the employer.
When a patient care advocate works for an insurance company, as an example, she might cut through red tape for the patient, but she is not likely to overturn insurance rulings or to act in a manner that would prove less profitable to her company. In a sense this is a dual advocacy rule where principally the insurance company and not the patient is served. That doesn't mean the patient advocate of this type can't be useful, but he or she does need to be viewed as principally an ombudsman for the company represented, and may not prove as helpful to the patient.
Other patient care advocate examples may have dual purposes too. Social workers representing hospitals may try to help patients resolve difficult matters. Yet they also must observe hospital rules or regulations and might have to try to create a balance between representing patients and hospitals. It should be stated many social workers are excellent at finding this balance and discovering support services for patients.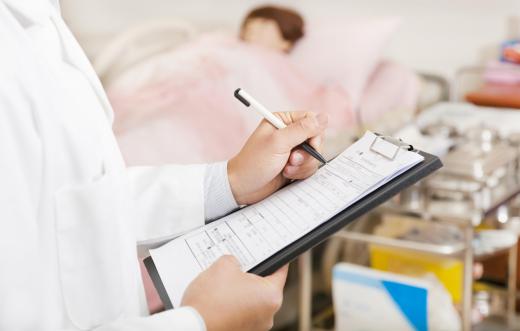 The private or non-profit patient care advocate is a little less biased, and may work in various ways to help people resolve difficulties. They could be present during parts of hospitalizations to make certain people are getting appropriate care. As representatives of the patient they could speak with medical personnel about treatment options, adhering to any plans for care the patient wants, and they might also work as go-betweens to insurance companies, helping to negotiate things like coverage and pre-approval for treatment. Advocates may be useful to families, representing the voice of the person who is ill so that families understand decisions that need to be made.
In addition to some training in medical/social work or insurance fields, advocates usually need to be calm but strong communicators. Since this field, especially when represented by privately employed advocates is relatively new, other medical/insurance professionals may not recognize it. Communicating well to those who don't understand the role is important.
Still some caregivers or insurance companies are likely to view private advocates as more annoying than helpful, since advocates quietly and firmly tend to insist on best care for their clients. Politeness is important because in some ways it is the job for the patient care advocate to be "annoying" or at least calmly insistent on fulfilling the needs of the patient, and manners may achieve much more than anger or shouting. The degree to which the advocate can help a client through excellent communication with sometimes unwilling participants may be a measure of his/her skill.
Finally, patient care advocate implies many different pay scales. People employed by hospitals or insurance companies may make good salaries. Private advocates charge clients directly for services and could take a number of things into account when billing. Many people do this work for very little money or on a volunteer basis. In the last capacity it may not be possible to be an advocate for a full-time career unless a person has other means of income.
AS FEATURED ON:
AS FEATURED ON:

By: koszivu

A patient advocate ensures that a patient receives proper medical care.

By: jovannig

A patient care advocate may work for a hospital or another organization.

By: endostock

Patient care advocates may work with healthcare providers to ensure the patient receives the proper treatment.

By: Tom Wang

A patient advocate may review medical charts for their clients.

By: mario beauregard

Patient care advocates might have a background in nursing.