What Is a Network Thermostat? (with pictures)
A network thermostat, sometimes called an Internet thermostat, allows property owners to control the temperature of their heating and air-conditioning systems from other locations. This is done through an Internet protocol network accessed by computer or mobile phone. The capability of remotely controlling building temperatures allows for greater environmental management, enhanced energy efficiency, and money savings. Linked with other home automation devices, such as lighting systems or appliances, these devices offer greater property automation through preset programming that might automatically activate furnace or air-conditioning systems during typical hours of occupation.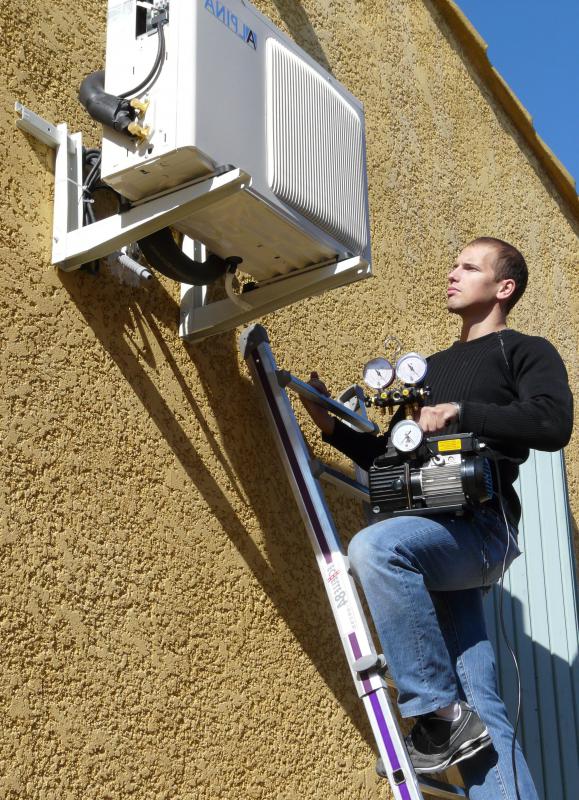 Thermostats not only read temperature, but can also control the activation and deactivation of equipment. With the use of Internet technology, temperatures can now be controlled by accessing equipment through a Web server, by secure interface through a Web browser. This allows homeowners and property managers to control their environmental systems from virtually any location with an Internet connection.
The conveniences afforded by a network thermostat might include making adjustments for significant changes in weather or schedules, monitoring energy use by other occupants, and even overriding those settings. They also permit more instantaneous responses to temperature complaints, and can reduce need for costly automated ventilation systems. These networked devices are often protected by security measures such as passwords and are typically not accessible through wireless protocols.
Residential and commercial properties alike benefit from the advantages of network thermostat technology. By affording greater running control over the operation of environmental equipment, users are able to save money they might otherwise spend on expensive installations, renovations, and personnel costs. A modest compromise between thermostats and high-cost building automation systems, the network thermostat is capable of being linked with sensors and controllers through local area network (LAN) systems. The system might average temperatures between exterior or rooftop sensors and targeted rooms in order to adapt the air temperature between environment and the property.
By linking a network thermostat within an automated system, homeowners are able to exert greater control over their environmental conditions and their overall energy use. Network thermostats present an added capability for home automation, sometimes used in addition with security systems or scheduled activations of particular appliances. These devices come available with a range of programmable capabilities, from simple temperature setting and monitoring to more complex environmental and scheduling customizations.
Resembling a typical thermostat in design, a network thermostat might feature a digital readout in Celsius or Fahrenheit, as well as buttons for temperature controls, program schedules, or other settings. Some feature an easy-to-read large alphanumeric display for quick visualization of temperature from across the room. These units tend to be more expensive than typical thermostats and may require professional installation. The convenience and savings they afford potentially offsets costs, however, and with proper use they may pay for themselves over time.
A network thermostat.

Thermostats can control heating and air conditioning of a home or building.