The military cap, like so many other hats, was born of necessity and has regained popularity due to its functional and fashionable style. There are many versions of the military cap, but they all have the same basic structure. They are meant to be worn fitted and fairly close to the crown of the head. They may be any color or design, but neutral colors and olive green are the most traditional hues.
Some military caps have an ultra-stiff top, but must are somewhat slouchy and tend to wrinkle on the sides and top. This is part of the trend. A well-worn cap may fray on the visor and sides of the cap from constant tugging on and off the head. Likewise, vintage or "destroyed" military caps may be purchased for those who prefer a more rugged look.
Beginning in the 17th century, many soldiers replaced unwieldy helmets with more comfortable hats. Plumage and accessories were often added. Feathers and badges or pins adorned the military cap, as did the necessary buttons, tighteners, or fasteners.
Military caps now often have adjustable straps in the back. These straps allow for a variety of head sizes to fit into the cap. A button or other fastener may also be used to tighten or loosen the fit of the military cap. Occasionally buttons, zippers, or pockets may be added to the cap for aesthetic reasons, though they often don't serve any functional purpose.
In the 21st century, a military cap may still be worn as part of a military uniform. Quite often, however, the cap is paired with a casual outfit. It's usually worn with jeans and a casual top.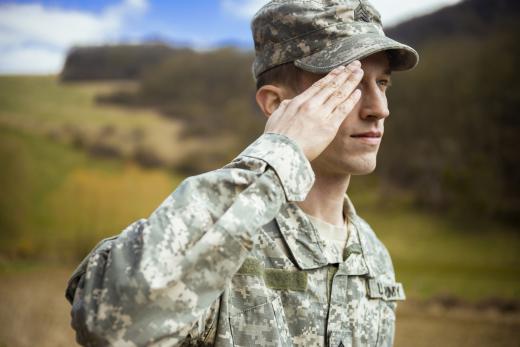 A military cap is generally made of a polyester. A wool, cotton, or nylon blend may also be used. Some such caps may be all wool, and are meant to be worn in the winter. Some military caps come with fleece ear covers, which are certainly functional, but have also become a trend. When not warming up the wearer's ears, the flaps may be tied to the side of the cap for a funky look.
The military cap is unisex. Men and women both wear the cap style, though many women's styles are more ornately decorated. Designs and patterns are popular, as are bright colors. Those interested in the vintage look, however, will likely stick with a plain, neutrally hued military cap.
AS FEATURED ON:
AS FEATURED ON:

By: The National Infantry Museum and Soldier Center

The type of military cap worn depends on the occasion.

By: daughter

A soldier in the Army often wears a camouflage cap.

By: Burlingham

The same military cap is worn by women and men.

By: Oleksii Nykonchuk

The style of military caps differs widely from nation to nation.