What is a Master Technician?
A master technician is an automobile maintenance and repair expert who has gained several years of mechanic experience and passed a series of requisite certification exams. Most master technicians work as head mechanics in repair shops, performing the most difficult jobs and supervising crews as they work on cars, trucks, motorcycles, and heavy equipment. In the United States, the National Institute of Automotive Service Excellence (ASE) provides certification to qualified candidates. Many other countries feature organizations similar to the ASE that administer exams and grant credentials to successful mechanics.
A person who wants to become a master technician in the United States is usually required to gain at least two years of mechanic experience and pass eight certification exams. The exams cover major aspects of automotive repair: engines, automatic transmissions, manual transmissions, suspension, brakes, electrical systems, heating and cooling, and general performance. Tests come in both written and computerized forms and usually take two to four hours to complete at an accredited ASE testing center. Master technicians are also required to take periodic recertification exams to maintain their credentials.
An ASE certified master technician who works for a large company or chain is generally responsible for supervising other technicians. He or she gives directions, oversees progress, and makes suggestions on how to improve repair techniques. Since master technicians are familiar with many different kinds of repair work, they can train other mechanics in a number of highly specialized areas. By delegating responsibilities to specialists, technicians are able to ensure faster, more efficient service.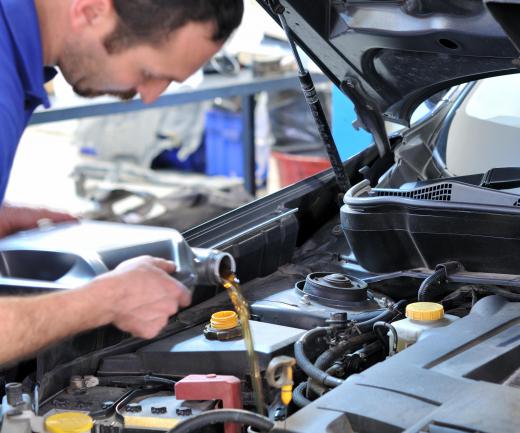 For a very intricate or difficult repair job, the master technician steps in to personally complete the task. Some jobs require hours of labor-intensive restoration work, while others involve careful diagnoses of very small, subtle problems. Master technicians must know how to utilize many different hand and power tools, as well as diagnostic machines, timing guns, and other specialized pieces of equipment. Some technicians choose to specialize with a certain make or brand of automobile to provide the best possible service for customers.
A master technician may choose to operate an independent repair shop, where he or she is responsible for hiring assistants and handling most of the administrative duties related to the business. The technician keeps customers' records, orders parts and tools from manufacturers, and maintains inventory in stock rooms. He or she is also responsible for keeping the workplace safe and disposing of hazardous materials in accordance with local and federal regulations.
AS FEATURED ON:
AS FEATURED ON:

By: albert schleich

A master technician might run a motorcycle repair shop.

By: uwimages

A master technician typically has several years of experience.

By: ashadrov

Master technicians must pass certification exams in eight different areas.

By: Tyler Olson

Master technicians must be familiar with both manual diagnostics and the use of computerized systems.