What Is a Laser Cross Level?
A laser cross level is a construction tool that projects bright laser beams onto surfaces, providing both a plumb and level line for positioning purposes. Also known as cross line levels, such tools can be useful for a wide variety of construction projects. They are multipurpose to cut down on the amount of equipment a contractor needs to carry; instead of needing two construction lasers to project separate level and plumb lines, it is possible to use just one in some cases.
The device typically includes a unit mounted on a self leveling tripod. The operator can program the desired parameters, turn the laser on, and allow it to level itself. It projects laser beams and may offer a pulsing setting which can be used with a laser detector. This can be useful in conditions where it is hard to see the beams because of bright light or interference. Red is the most common color for a construction level for visibility reasons, but other options may be available.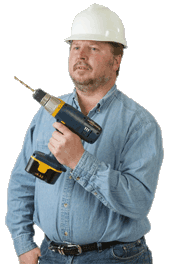 While in operation, the laser cross level projects a neat cross on a wall or other fixture, and may also project onto the ceiling. This can allow construction crews to orient themselves while installing trim and fittings, cutting window openings, and so forth. The laser lines can be used for chalking or taping to prepare a space for work, as for example if people want evenly spaced stripes on their walls as part of a painting project.
For safety, the laser cross level may lock in place once it is at the desired setting. If the device detects that it has been moved, it may blink or emit a tone to alert construction crews to the fact that the lines may be off. They can recalibrate the laser to put it back into position and reset it before turning the alert off and locking it again. This can be an important feature on a busy construction site, where levels and other tools may be jarred by activity.
Construction suppliers often carry laser cross level equipment and accessories, and it is also possible to order them directly through manufacturers. Costs vary, depending on the types of features offered. Some stores also sell used equipment or provide tool loans and rentals for people who just need them for quick projects. A tool library can be another excellent resource for a laser cross level, whether for a project or as a piece of test equipment to determine whether a given make and model is the right choice for a contractor's needs.
AS FEATURED ON:
AS FEATURED ON:

Man with a drill