What Is a Home Theater Sectional?
A home theater sectional is a type of sofa designed for optimal comfort and usability in rooms that feature a home theater. This means the sofa is exceptionally comfortable both in the upright and reclined positions and will not interfere much with home theater sound. The sofa will be designed in such a way that people sitting anywhere on the sectional will have an unobstructed view of the television. Sectionals generally feature several seats, some with reclining features and others without. Additional features will be designed to accommodate optimal home theater viewing.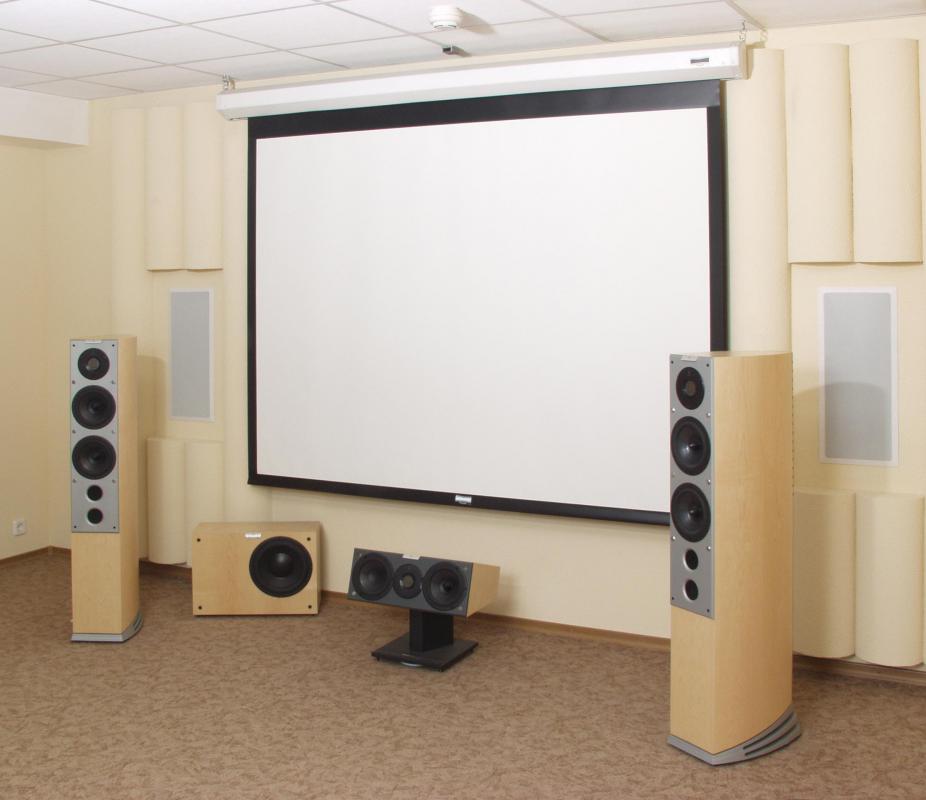 Armrests, for example, may provide comfort, but the home theater sectional may also have another built-in feature to the armrest. Many armrests feature cup holders, for example, and others may feature storage space within the armrest so remote controls and television guides can be stored within. This maintains the clean aesthetic of the home theater sectional while ensuring commonly used accessories are always within arm's reach. The ends of the sectional are likely to feature recliners that can be controlled by an arm lever mounted on the side of the sofa, or simply by pushing back on the seat back. The center seats may or may not recline. If they do not, the sectional is likely to include a hassock or foot rest to accommodate the people sitting in the center seats.
The materials used to upholster the home theater sectional can vary significantly. Leather is a common choice for upholstery of a home theater sectional, as this material is rugged, durable, comfortable, and aesthetically pleasing. Leather also tends to become more comfortable and more attractive as it ages. Microfiber couches are softer and less expensive than leather sofas, and while they are fairly durable, they can fade or become less attractive over time. Synthetic materials may be spill-resistant and lower cost, but they generally are not as attractive as leather or microfiber.
Very often a home theater sectional is curved or L-shaped. This is done for two reasons: first, sectionals tend to be quite large, which means it may not fit otherwise in a room; second, the curved design ensures people sitting at any location on the sofa will be able to have an unobstructed view of the television, as well as a higher quality audio experience. Some sectionals can feature seven or more seats, which means the unit will be quite large — usually too large for most rooms if it is not L-shaped or curved.
By: valya82

A foot stool that goes with a home theater sectional.

By: ludmilafoto

Home theater sectionals may be designed to minimally affect the acoustics of the room.