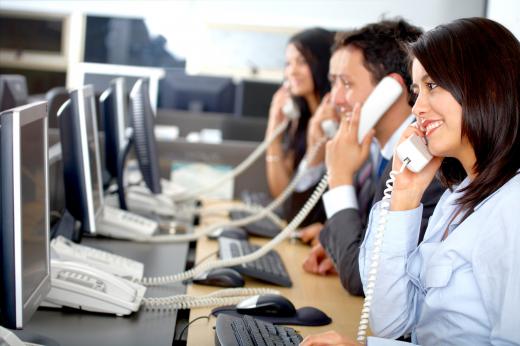 A help desk is a resource designed to provide end users with information and assistance regarding problems with computers and related devices or software. Though some help desks do involve a support person working at a physical desk, often services are provided via a call center or over the Internet. In fact, some help desks consist primarily of lists of questions and answers posted online, geared towards assisting users in tackling technology-related issues.
Many corporations provide help desks for the use of their customers, offering support services via Internet or phone. Often, companies provide help desk services to their employees as well. In some cases, both customers and employees use the same help desk to obtain assistance, while in others separate support services are used.
In addition to those set up by corporations, there are many other types of help desks. Smaller companies, private organizations, and educational facilities often provide various help desk services to their customers, employees, students, or members. Furthermore, some help desks are available to anyone in need of help. Usually, no affiliation is required to use this type of service, but the user must typically pay a monetary fee to obtain support. This fee can be a flat rate or an hourly amount, depending on the particular rules of the service.
Large help desks often provide different levels of support. For instance, at the basic level, a large help desk may provide answers to commonly asked questions. At the next level, support personnel may handle more difficult issues and problems. Often, a large service will have entire teams dedicated to working on specific issues. Smaller help desks may provide similar quality support on a narrower scale.
Though help desk services are often provided completely via telephone or Internet, some situations may require on-site assistance. Some help desks provide on-site troubleshooting in certain situations, but many do not. Depending on the particular service, support personnel may work in a company building or in just about any other location. In fact, some help desk technicians choose to work entirely from home.
Many help desks use remote software to manage assistance requests and track users. Remote software allows the user to control a computer from a remote location using a network connection. Often, remote software is also used to troubleshoot computer-related problems. This software enables support personnel to gain access to the user's computer and apply appropriate fixes. Using remote software, a help desk technician can assist an end user located in virtually any part of the world.


People in a call center helping customers.

By: auremar

Some help desk positions involve a support person working at a physical help desk.