What is a Hearing Aid Dryer?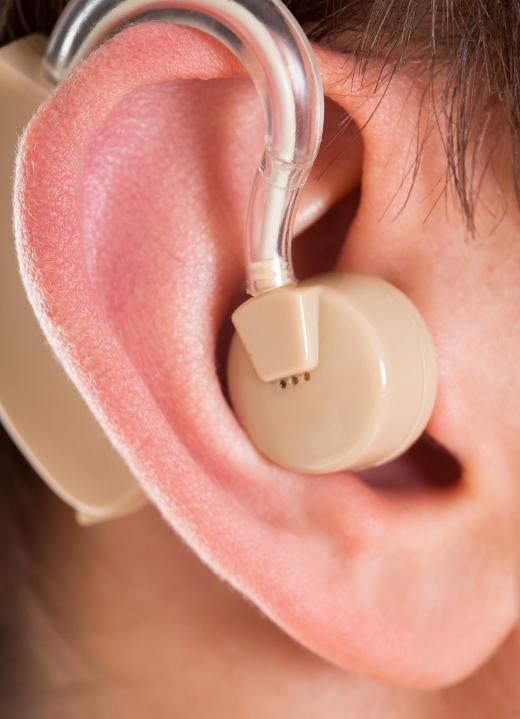 A hearing aid dryer is designed to remove the moisture from a hearing aid in a short amount of time. The dryer can be a device with a fan or heating element, or a simple container with a drying agent inside. Using a hearing aid dryer will lengthen the life of the hearing aid and reduce the incidence of crackling and static noises when the hearing aid is in use.
Excess moisture on a hearing aid can develop from the humidity in the air. Sweat can also be trapped inside the hearing aid on hot days. Many professionals advise placing the hearing aid in a hearing aid dryer at least twice a month, although in the summer months drying may be necessary a few times a week.
Most hearing aid dryers require a drying agent, or desiccant, to be added that will need to be replaced every few months. The desiccants can be small bricks or pellets that soak up the moisture that is near it. Some of these drying agents can be microwaved or put into the oven for a few minutes to restore the moisture removing properties of the substance.
Batteries usually need to be removed from the hearing aid before it is placed in a hearing aid dryer. If the batteries are left in, it may cause corrosion inside the hearing aid. The battery compartment should be left open to ensure the hearing aid gets completely dry.
Some hearing aid dryers have an ultra-violet (UV) light that activates when the dryer is turned on. The light disinfects the surface of the hearing aid and reduces any earwax on the hearing aid to dust. This may cause a decrease in ear infections caused by trapped bacteria.
A popular hearing aid dryer is a device that uses 12 volts of energy. The hearing aid is placed in a tray and left for at least eight hours. A small amount of dry air is then gently circulated within the container, removing the moisture from the inside of the hearing aid.
Another hearing aid dryer uses heated air to remove the moisture from the hearing aid. A fan blows the heated air into the hearing aid, eventually drying the trace amounts of moisture found on the hearing aid. The process takes about eight hours to complete.
The simplest hearing aid dryer is a small container with a piece of foam in the bottom. After the hearing aid is placed on the foam, the container is closed and left for six to eight hours. The foam is made from a substance that absorbs dampness from its surroundings. It will slowly remove any moisture from the hearing aid over the course of a few hours.


By: apops

Hearing aid dryers extend the life of the devices by removing moisture.

By: PictureArt

Hearing loss is one of the most common conditions affecting elderly individuals.

By: JackF

Hearing aid users are more prone to earwax blockage.