What Is a Garden Home Office?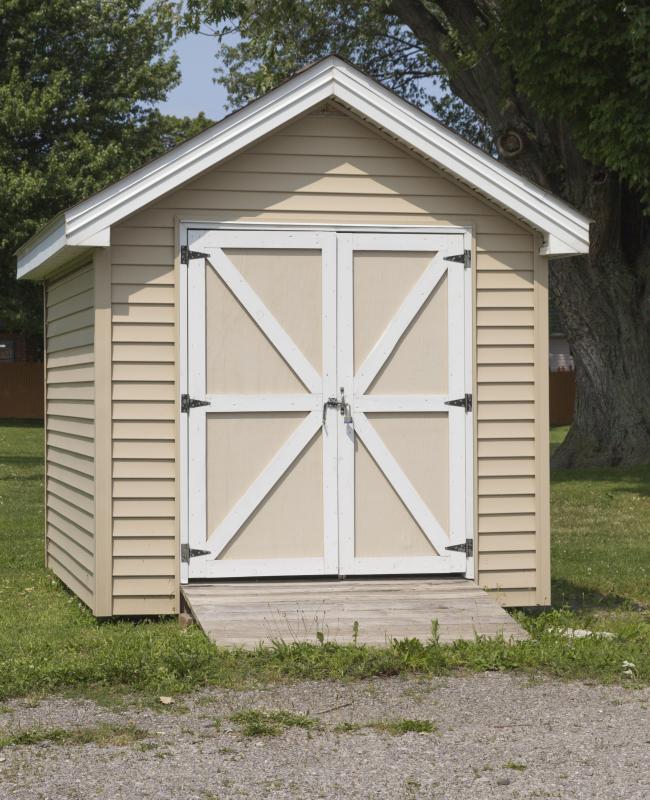 A garden home office is a free standing structure, typically built in the backyard or garden of a single family home, intended for use as an office. The design of this type of structure is often square or rectangular in shape, which can be elaborated for homeowners with large available garden space. The construction specifications tend to require higher quality materials than those used for garden and utility shed assembly so that the space is weatherproof and can hold a comfortable internal temperature. These offices are usually installed by construction professionals onsite in the garden or yard area of the homeowner.
The foundation of the garden home office is typically poured concrete over which a steel box frame is placed. The walls are fitted with full electrical wiring and insulated against changing outdoor weather. Both the flooring and walls also include a type of vapor barrier, designed to keep moisture from entering the space and growing mold and other spores.
The roof of the building is often constructed of galvanized steel and fitted with a complete gutter system and downspouts. This type of unique attention to detail, which is not usually found in similarly styled garden sheds or utility workrooms, prolongs the life of the building and protects the interior. A garden home office may house a computer system, printer and fax machine, and important filed documents that can suffer damage from intruding weather elements more easily than garden tools or work benches.
The dimensions of the structure are typically small and define a standard box or rectangle in shape. The new building is usually constructed in an existing garden or yard that may be limited on available space based on the location of neighboring property lines. As a result, most garden home office designs include a large number of windows and one glass entrance door that allow ample light into the space and prevent the occupants from feeling trapped inside their offices. These windows and doors, some of which may comprise one entire wall of the structure, are double glazed and energy efficient, to prevent extreme changes in interior temperatures based on the outside climate.
Additional features can be added to the garden home office at the request of the homeowner. The standard shape of the office can be modified to include a small bathroom with showering facilities. A heating and air conditioning unit can be added to keep the internal climate of the office moderate. Outside decking or porches may be added to the front and sides of the building as well, for easy entertaining or a second relaxing environment in which to conduct business. Exterior siding may be constructed from natural wood or stone to create an organic feel which compliments the atmosphere of the garden.
By: fallesen

A garden home office may be stylized to resemble a garden shed.

By: Mushy

It's important to keep moisture out of a garden home office, or else mold and other spores may start to grow.