What Is a Cathedral Train?
A cathedral train is a train that cascades between 2 and 2.5 yards (about 6 to 8 feet) in length from the waist of the gown to the back hem. Cathedral trains are most commonly found on very formal gowns, such as wedding dresses, prom dresses, and ball gowns. Because of their significant length, they are usually detachable or come with a bustling option which allows the wearer more freedom to move. A semi-cathedral train is a train that has a length which is halfway between that of a chapel train and the cathedral.
A cathedral train is one of the longest types of trains, second only in length to the "royal train" which trails approximately 3 yards (about 9 feet) from the waist to the hem at the back of the gown. The royal train is also occasionally referred to as the "Princess Di train" in honor of the massive train featured on the wedding gown worn by by Diana, Princess of Wales during her wedding to Prince Charles. The chapel train is the train most commonly featured on wedding gowns, and is slightly over 1 yard (about 4 feet) from the waist of the dress to the back hem. The shortest type of train is known as the "sweeping train" or "brush train" as it just brushes or sweeps the floor, falling only a few inches longer at the back hem than at the front. As the length of a train is proportionate to the formality of the dress, the sweeping train is the shortest and therefore most informal of the most common types of trains.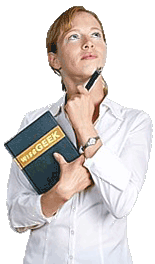 The cathedral train is most commonly found on strapless or halter neck wedding gowns, although it's also featured on wedding gowns with cap sleeves, three-quarter-length sleeves and long sleeves. The train may feature a "scalloped" design at the hem as well as embroidery or pleats. It may also feature "lifts," which are gentle wave-like folds in the fabric. This type of train is especially suited to gowns with a mermaid-style or trumpet-style skirt, which is a type of skirt that's fitted at the waist and flares below the knees all the way to the hem of the train.
AS FEATURED ON:
AS FEATURED ON:

Woman holding a book