What is a Builder's Home Warranty?
A builder's home warranty is a written promise from the builder to fix any construction defects discovered within a set period of time. The builder in question can be a large corporation or a small general contracting business; the term, in this case, also can stretch to include architects and others involved in the process of building a home. New-home warranties are a legal requirement in almost every state in the United States. The builder's home warranty protects a home owner in the event of failures in materials or workmanship.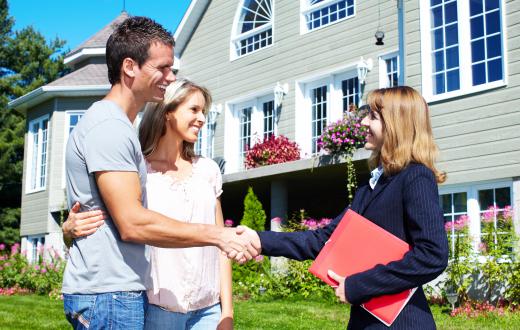 The warranties themselves are limited and do not cover everything in or outside of the home. Most cover just the workmanship, materials and structural components. The workmanship can include anything from paint to appliances. Generally, if a construction worker installed or finished a component, it is covered. Going over the contract from your builder's home warranty is a good idea, because it will contain a record of covered items.
Understanding what a builder's home warranty covers is an important part of home ownership. They are limited warranties and won't provide coverage for the life of the home. What is covered and for how long varies from builder to builder. Generally, such warranties in the United States cover the work and finish for a period of one year. The electrical and plumbing systems are often covered for two years, while structural materials are covered for 10 years.
Most builders include the cost of the warranty in the price of a new home. Not every state in the U.S. requires a builder to include a warranty, but there are companies from whom homeowners can purchase a builder's home warranty. Real estate agents sometimes give their clients a new home warranty as a gift after selling them a property. Unless required by law, the warranty is up to the builder to offer or the home buyer to request.
A builder's home warranty is different from homeowners insurance and shouldn't be confused. Homeowners insurance protects a homeowner in the case of damage resulting from an even such as a fire or vandalism. The insurance will cover the cost to repair a home or replace items inside the home. A warranty from a builder does not cover damage caused by random acts. The warranty from a builder protects a homeowner from damages resulting from substandard work and materials.
New home construction is the most common type of construction covered by a builder warranty. Renovated homes or structures that have undergone major structural changes, such as an addition, may sometimes qualify for a builder's warranty. Consulting with a real estate professional is often the best way to learn more about a specific builder's home warranty products.


By: leekris

New home construction is most commonly covered by a builder's home warranty.

By: Kurhan

A builder's home warranty helps to cover costs if something goes wrong in a new home.