What is a Beurre Blanc Sauce?
Beurre blanc sauce is a rich French sauce made from an acidic reduction whisked together with chunks of fresh butter. The result is used on foods like fish, eggs, poultry, and vegetables to add a complex, rich layer of flavor. Many French restaurants offer foods lavishly garnished with this sauce, and it can also be made at home relatively easily by patient cooks with steady hands.
In French, beurre blanc translates into "white butter." The name is a reference to the fact that, while the sauce is cooked and blended, it is not browned, as in the case of things like roux. Beurre blanc sauce is sometimes mixed with other ingredients, but as a general rule it makes a delicate white sauce, rather than a heavier and more dense brown sauce.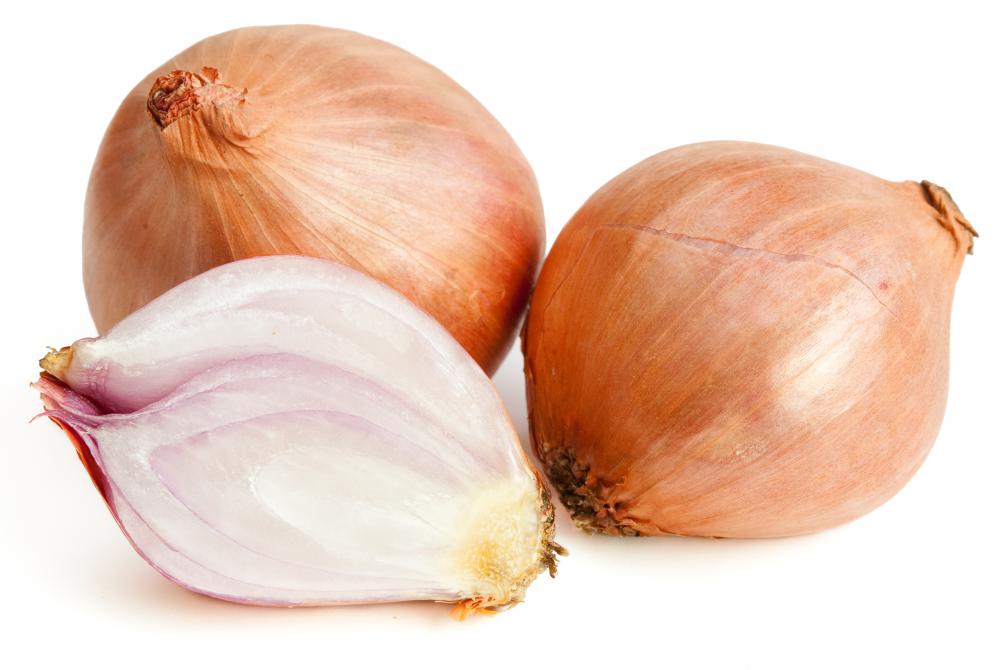 The origins of this sauce are largely shrouded in legend. One popular tale says that a cook was preparing a complex meal for a head of state, and accidentally left both the egg and the tarragon out of bernaise. Since the cook did not have time to fix the food, it was sent out as is, and to the cook's surprise, the dish was deemed a success. Others suggest that the sauce was developed intentionally, perhaps as a light sauce for mild freshwater fish such as trout.
A traditional beurre blanc sauce starts with reducing very finely chopped shallots in vinegar, lemon juice, or white wine. Once the acidic reduction is made, chunks of slightly softened butter are added and briskly whisked in. Cooks whisk rapidly to capture multiple small air bubbles in the sauce so that it will hold up well. The sauce is usually used immediately, and cooks differ on whether or not to strain it.
Some cooks add cream to the sauce, to stabilize it. This deviation from traditional should not technically be called beurre blanc, since the cream dramatically changes the composition and texture of the sauce. Other ingredients such as tarragon or dill may be added as well, for additional flavor.
To make the basic recipe, cooks can use 2/3 cup (157.7 ml) of wine, vinegar, lemon juice, or some combination of these ingredients. The liquid should be heated on a medium temperature setting along with two finely chopped shallots until the volume of the liquid has been reduced to approximately 1/4 cup (59 ml). The mixture should be allowed to cool before it is placed over low heat and 3/4 to 1 cup (about 170 to 227 g) of unsalted butter broken into chunks quickly whisked in. Strain, if desired, and add salt and pepper to taste.