A bank charge is an amount of money charged by a bank for a specific service, practice, or incident. Some banks make distinctions between a fee and a charge. The fee applies to normal banking costs, such a monthly fee for bank services or a one-time fee for use of an ATM. The bank charge might be more of a punitive measure if customers overdraw accounts or deposit bad checks. This article evaluates fees and charges, as they're sometimes considered to be the same.
Typically, the bank fee is an ongoing or single use fee. Many banks assess a monthly fee to customers, which is often about $10 US Dollars (USD) per month. These fees are frequently associated with having a checking account, and not all banks charge them. Sometimes banks waive fees if people use direct deposit, or alternately, they charge them for specific types of services, like using online bill pay or Internet checking. Other common fees are assessed on a per use basis, and customers might be charged for ATM use, if they wish to get a money order or cashier's check, and sometimes if they call or visit their bank and want to talk to a teller.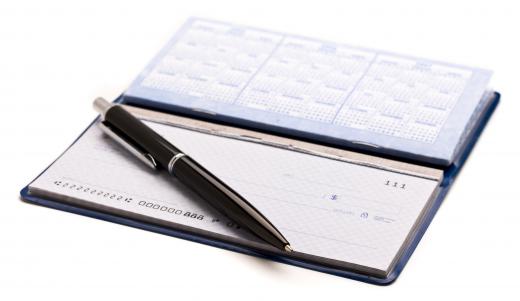 The types of fees that may be more often referred to as a bank charge are for services that a customer ordinarily wouldn't expect a bank to offer. For example, if a customer writes a check that can't be covered by funds in an account, the bank can assess an overdraft charge. Some people pay a monthly fee to purchase overdraft protection, which means the bank won't return the check but will advance money to pay it.
A bank charge may still apply with overdraft protection, which could be $10-50 USD or based on a percentage of the amount advanced. Alternately, some banks will, for a charge, draw money directly out of a savings account to cover the bounced check. Even if a bounced check is covered, overdraft charges are often prohibitively expensive, and some banks scale their fees up as frequency of bounced checks increases. Very occasionally, people won't receive a bank charge for a bounced check if they are extremely long-standing customers, but this is unusual.
A bank charge typically also applies if a person deposits a check that bounces. Banks may construct this charge by percentage of the check deposited or they can assess it as a flat fee. This is why merchants are entitled to payment above a bounced check from customers. They've lost money from their bank because a check was returned for insufficient funds.
It's very important for customers to understand the bank charge and fee structure of their bank. Some banks have a reputation for minimal fees, but over the top charges that can swamp customers if they're not extremely careful in their banking habits. It's advised people inquire about any unusual charges or fees, such as those that might be assessed for early withdrawal of funds or account cancellation.
AS FEATURED ON:
AS FEATURED ON:

Many banks levy fees on checking accounts.

By: WavebreakmediaMicro

ATM fees are one of the most common bank charges.

By: Alex Hinds

Banks typically charge a fee when a check bounces.